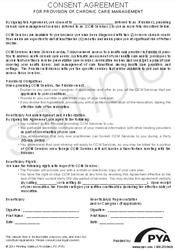 Knoxville, TN (PRWEB) December 12, 2014
On the heels of the Centers for Medicare & Medicaid Services (CMS) November 12 publication of the 2015 Medicare Physician Fee Schedule Final Rule (Final Rule), PYA is releasing a complimentary tool that healthcare providers may find useful in providing and billing Medicare for chronic care management (CCM)in particular, a model patient consent form.
Under the Final Rule, a provider is required to secure a beneficiarys written consent to receive CCM services prior to initiating the service. This consent must include: agreement to electronic communication of patient information with other treating providers for purposes of care coordination; discussion about what chronic care management services are and how they are accessed; details about how patient information will be shared with providers on the care team; and communication that cost-sharing applies to these services even when they are not provided face-to-face in the practice.
CMS has, on occasion, provided specific forms to be used by providers for patient notification purposes such as the Advanced Beneficiary Notice. With CCM, however, CMS declined to prescribe a consent form, instead leaving it to providers to develop. PYA has been inundated with requests from providers who are beginning to develop CCM programs and who are seeking this very type of document.
In response to this overwhelming need, PYA has created a Sample Consent Agreement for Provision of Chronic Care Management as a tool to assist in the area of compliance with the new rule.
PYA Consulting Principal Lori Foley, who helped develop the sample form, explained, PYAs sample consent form provides a template that may help alleviate provider uncertainty with regard to obtaining written consent and improve the likelihood that CCM services will be available for qualifying beneficiaries.
PYA has recently released other CCM tools that providers may find helpful in establishing a CCM program. PYAs white paperProviding and Billing Medicare for Chronic Care Managementprovides detailed, yet practical, step-by-step instructions (including core requirements and documentation standards) for providers looking to furnish CCM in a compliant manner. In addition to providing a deep dive into CCM, this questions-and-answers publication outlines consent-related questions such as how to obtain consent, what to do with the signed consent form, what happens if a beneficiary revokes consent, and how a beneficiary may revoke consent.
In addition to the white paper, PYA also recently hosted a four-part educational series regarding new Medicare physician value-based payments. Both may be accessed from PYAs website.
PYA assists organizations in developing effective and efficient chronic care management programs by transitioning complicated rules and regulations into practical, straightforward strategies.
—

About PYA
For over three decades, Pershing Yoakley & Associates (PYA) has provided timely insight and strategic support, helping clients thrive in the midst of rapid change. PYA is ranked by Modern Healthcare as the nations twelfth largest privately held healthcare management consulting firm. For more information, visit http://www.pyapc.com/.