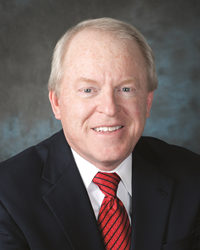 (PRWEB) October 03, 2014
PYA President Ed Pershing has been chosen as the University of Tennessees (UT) 2014 Distinguished Alumnus for the Department of Accounting and Information Management (AIM). Pershing will be presented with the award at the 39th annual Warren Slagle Accounting Day celebration on October 4, 2014. The yearly fall event which draws students, alumni, guests, and friends is hosted by the departments Beta Alpha Psi chapter.
Since 1998, AIM has offered this award to select accounting graduates who have had extraordinary career success over extended periods of time. Pershing is the 9th alumnus to receive this award.
Ed Pershing co-founded Pershing Yoakley & Associates, a national accounting and healthcare consulting firm, more than 30 years ago. PYA has expanded from a three-employee office to more than 270 employees and five affiliate companies serving in excess of 3500 clients in 48 states from offices located in Atlanta, Kansas City, Knoxville, Nashville, and Tampa Bay.
It is such an honor to be recognized by my alma mater and to join the ranks of former honorees, said Pershing. The University of Tennessee offered me an education that has served as a foundational cornerstone throughout my professional career. I remain deeply grateful to the University and its dedicated educators for the exceptional education I received.
Pershing has previously been recognized with the Life Achievement Award as a Greater Knoxville Business Journal Health Care Hero for his accomplishments.
About PYA
For over three decades, Pershing Yoakley & Associates (PYA) has provided timely insight and strategic support, helping clients thrive in the midst of rapid change. PYA was named to INSIDE Public Accountings 2014 list of the fifty Best of the Best Accounting Firms and is ranked by Modern Healthcare as the nations twelfth largest privately held healthcare management consulting firm. For more information, visit http://www.pyapc.com/.