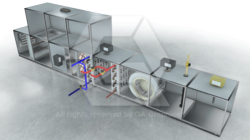 Ankeny, IA (PRWEB) November 28, 2012
QA Graphics, leading provider of design services for the building automation industry, is pleased to announce that they are providing partner resources for clients utilizing their BAS graphic services.
QA Graphics is the industry leading resource for domestic graphic sourcing for the building automation industry. Companies look to QA Graphics for a variety of BAS graphic services to provide their customers with more realistic graphics and gain a competitive edge, to save time, and to take the load off of their staff. By sourcing their graphics needs to QA Graphics, businesses can access high-end BAS graphics that follow a consistent set of standards, without having to train or hire additional staff. To further help their clients, QA Graphics is providing marketing resources to help clients upsell their customer base when discussing graphic needs for projects.
Companies can partner with QA Graphics to take advantage of this BAS expertise and market these design services to their customers. QA Graphics will provide marketing materials and sample graphics to effectively promote the BAS graphic solutions. The marketing literature may also be customized, utilizing QA Graphics services as a silent partner. There are no fees or contracts associated when working with QA Graphics. Clients can also look to QA Graphics to further their industry awareness through public relations efforts. QA Graphics has helped many clients gain significant press coverage through case studies and articles.
Partners can look to QA Graphics for comprehensive services including: