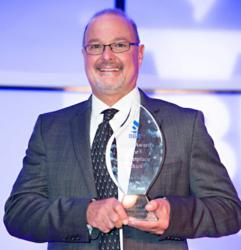 Santee, Calif. (PRWEB) December 11, 2012
Quality Controlled Manufacturing Inc. (QCMI) is pleased to announce it received the 2012 San Diego BBB Torch Award for Marketplace Ethics. With 98 employees QCMI won in the 25-to-99 employee category. The 15th annual awards luncheon was held on Dec. 4 at the Town and Country Resort Hotel and Convention Center. As a winner QCMIs entry will be forwarded to the Council of Better Business Bureaus, the parent organization for the BBB network, to compete in the international competition.
Quality Controlled Manufacturing Inc. specializes in the precision machining of all metals including exotic alloys. The company produces components with complex shapes, contours, exacting tolerances and stringent quality requirements. It was recently recognized by the San Diego Society for Human Resource Management with the 2012 Workplace Excellence Award in the small business category.
The San Diego BBB Torch Awards is an annual awards program designed to honor outstanding local for-profit companies and nonprofit charitable organizations. Winners and finalists were selected in categories based on number of employees. Businesses submit a comprehensive entry which includes documentation on how the company is committed to ethical business practices — in regards to its employees, suppliers, vendors and customers.
QCMIs entry provided sections from its employee handbook which detailed its commitment to exceptional standards — communicated to and implemented by employees. Examples of QCMIs vision, mission and core values in action were also included describing how the companys beliefs are leveraged for the benefit of consumers, suppliers, shareholders and local community. In addition, a section on the methods QCMI uses to ensure that all sales, promotional materials and advertisements are truthful and accurate was documented, along with samples of media coverage reflecting QCMIs industry and community reputation as a trustworthy business.
In a news release, Sheryl Bilbrey, San Diego BBB president and chief executive officer, said, The Torch Awards program is designed to promote not only the importance of ethical business practices, but the willingness and efforts made by outstanding businesses to ensure that our marketplace remains fair and honorable. Its the way San Diego celebrates ethical business practices in our marketplace.
We are particularly proud of this honor because business ethics and integrity has been a guiding principle for our company and our team of employees for over 34 years now, said Founder and CEO, Bob Grande. With the BBB Torch Award, QCMI is publicly recognized for having a code of business conduct that not only holds us to the highest level of ethics, but distinguishes QCMI as an example of high ideals in the corporate community.
For more information about QCMI call (619) 443-3997 or visit http://www.qcmfginc.com.
About Quality Controlled Manufacturing Inc.

Founded in 1978, QCMI specializes in the precision machining of all metals including exotic alloys. QCMI is ISO9001/AS9100 certified, ITAR registered and Nadcap accredited. It manufactures components for the aerospace, power generation, Department of Defense (DOD), oil and gas, marine and heavy equipment industries. Key services include CNC turning, milling, and grinding; conventional machining; welding; EDM; fabrication; inspection, non-destructive testing (NDT), next higher assembly; and supply chain management. In 2012 QCMI received its fourth consecutive UTC Supplier Gold Award. Inc. magazine nationally recognized QCMI as one of its Inc. 5000 companies, and the San Diego Business Journal ranked QCMI on its Top 100 Fastest Growing Private Companies list. For more information about QCMI call (619) 443-3997 or visit http://www.qcmfginc.com.