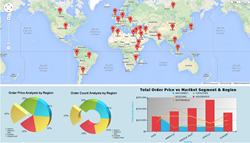 Santa Clara, CA (PRWEB) August 01, 2014
We are very pleased to announce the availability of EspressReport ES-AMI on AWS Marketplace. EspressReport ES-AMI delivers enterprise grade BI in the cloud, with subscriptions starting at $ 0.50 per hour (AWS infrastructure charges apply).
EspressReport ES is a feature-rich, powerful yet easy-to-use enterprise BI and operational reporting system with strong support for KPI dashboard publishing, visual analytics and ad hoc reporting. It allows users to easily create and publish reports, charts, and dashboards as well as schedule reports and charts without any programming. ERES is ideal for organizations that need to implement a web-based enterprise, all-in-one reporting system for decision support, as well as performance monitoring and management. Salient features include support for Google and SVG maps, end-to-end role-based security model, and high scalability. Advanced dashboard features include unlimited drill-down, drill-across and the support for alerts. When a key performance indicator reaches a critical range, the user is immediately notified via email and visual feedback so that appropriate actions can be taken in a timely manner. Information can now be accessed anytime, anywhere with advanced mobile reporting that supports touch screen gestures for dashboards on smart phones and tablets, giving end users the opportunity to make real time decisions.
EspressReport ES is written in pure Java and supports all commercial application servers such as WebSphere, Oracle WebLogic App Server, JBOSS, GlassFish, and Tomcat. Data sources supported are Amazon RDS, Redshift, all JDBC compliant databases such as Oracle, MySQL, MS SQL Server, Postgres, DB2, Informix; JNDI, Java classes, XML files, WSDL SOAP. SalesForce SOAP and EJB. Reports can be generated in highly formatted DHTML, print quality PDF, Excel spreadsheets, Rich Text files, and XML and CSV data dumps.
To learn more about EspressReport ES-AMI, please visit the following links.
http://aws.amazon.com/marketplace/pp/B00L83RMOA/ref=vdr_rf

http://www.quadbase.com/business-intelligence-enterprise-reporting/
ABOUT QUADBASE SYSTEMS, INC.

Quadbase Systems Inc., based in Santa Clara, CA, provides tools, technologies, and services that enable customers to disseminate high-value business information and manage business performance through Web sites, portals, mobile phones, tablets and applications. Since 1997, the company has focused on leading edge Java technologies for Web-enabled data reporting, visualization and dashboard presentations. Many major global organizations, in over 35 countries, have successfully deployed their web applications based on these tools and technologies. EspressReport ES is a registered trademark of Quadbase Systems Inc. AWS Marketplace and the AWS Marketplace logo are trademarks of Amazon.com, Inc. or its affiliates