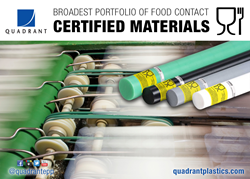 Reading, PA (PRWEB) July 10, 2014
Quadrant Engineering Plastic Products (EPP), the global leader of machinable plastics, is the first to offer the Americas local stock of polymer materials that meet European Union (EU) Regulation EC 1935/2004 and Regulation EU 10/2011. Quadrants continually expanding portfolio of food contact certified materials, from PA to PEEK, provides food manufacturers the assurance of fulfilling the highest safety and quality levels for their food processing and packaging machinery.
Since the European Unions recent introduction of more stringent food contact standards, Quadrant has been focused on the development and certification of advanced polymer materials, giving machinery builders options for new designs and performance upgrades. In an effort to improve the cleanliness and wholesomeness of food products, the European Union has adopted several standards that address potentially unhealthy materials that may contact food products. While not mandatory in the Americas, these standards – which require rigorous compliance data gathering – are driving materials used in food processing and packaging equipment that may be exported or that may be utilized for production of food products destined for specific regional markets.
According to Bernie Willms, Quadrant Engineering Plastic Products Commercial Director, "Quadrant has undertaken a program to support this regions equipment builders and users with a range of materials that are compliant with the EU standards and are accompanied by the data required by designers." Quadrant has worked hard to anticipate market trends in achieving full compliance on Nylatron