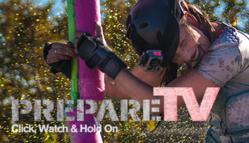 Los Angeles, CA (PRWEB) September 18, 2012
QuantumMethod and the American Red Cross today announced the launch of PrepareTV, a new digital media component of the PrepareSoCal three-year awareness campaign targeting the Southern California area. The PrepareSoCal campaign has the fundamental goal of increasing public readiness in the event of a disaster and a secondary goal of raising critical funds to support the Red Cross ability to respond to disasters in the Southern California region. Every $ 1 invested in preparedness saves more than $ 4 in post-disaster response costs.
We are incredibly excited to launch the first webisode in what will be a ten part series, for PrepareTV, says George Tierney, co-founder of QuantumMethod, which developed the series for the Red Cross. This cause marketing online video series has been developed to drive awareness of the overall PrepareSoCal campaign. We hope to get people on their toes about being prepared for disasters. With PrepareTV we want to educate the public in such a way that these videos can reach the largest possible audience. In order to do that, these videos need to be entertaining and engaging as well as educational, and PrepareTV does just that.
The American Red Cross is on a mission to get every individual prepared for the disasters that Southern Californians face living in this region, says Monica Diaz, Director of Communications, American Red Cross Los Angeles Region. Wild fires, mud slides, and earthquakes are a true threat and occur more frequently that any of us would like. The big challenge has always been, and continues to be, most Southern Californians acknowledge being unprepared for emergencies. PrepareTV is just one creative way we are reaching out to the public.
PrepareTV will be hosted on the campaign website: PrepareSoCal.org/PrepareTV, and on the Red Cross Los Angeles Regions YouTube channel: youtube.com/LARedCross. PrepareSoCal includes a diverse and broad spectrum public education campaign, through the PrepareSoCal website, social media outreach such as prepareTV, broadcast PSAs, live training sessions and other events.
QuantumMethod

QuantumMethod (QM) is a single source multi-media branding and communications company. QM develops and renovates brands – determines effective ways to reach the target audience – and executes all forms of communications and creative. The company is in the business of identity creation, cause marketing and magnetic communication for the masses. When you work with QuantumMethod, you get senior professionals working on your projects, bringing expert craftsmanship to every client engagement. Please visit quantummethod.com
About American Red Cross Los Angeles Region

A volunteer-led humanitarian organization, the American Red Cross Los Angeles Region helps people prevent, prepare for and respond to emergencies. Serving more than 85 cities in the Los Angeles region, the Red Cross provides relief for victims of house and apartment fires, earthquakes, floods, hazardous material spills, transportation accidents, explosions and other natural or man-made disasters — 24 hours a day. Last year, the chapter trained more than 150,000 people in vital life-saving skills, including CPR and first aid. For more information, please visit http://www.RedCrossLA.org.
###