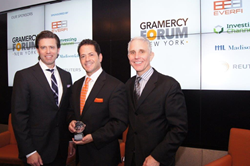 Philadelphia, PA (PRWEB) April 10, 2015
Marketing and advertising agency Quattro has been named one of 20 Most Valuable Partners in Financial Marketing by New York-based think tank the Gramercy Institute. Quattro client Ditech Mortgage Corp (ditech), a home lending partner based in Fort Washington, Pa., nominated the agency for the honor that recognizes true, strategic partners.
On behalf of more than 50 employees, we are honored to be selected as one of the 20 Most Valuable Partners in Financial Marketing by the Gramercy Institute, said Scott Cohen, Quattro Managing Director and Founding Partner. Each and every team member here at Quattro understands the importance of building strong relationships with our clients. Our success is based on their success. We thank ditech for nominating us and appreciate the vote of confidence.
The Gramercy Institute is a leading global network for senior marketers from the worlds leading financial institutions. Its member firms include 33 of the worlds leading financial institutions. Its network spans a financial marketing community of over 5,000 industry professionals, worldwide.
Congratulations to Quattro and the great people there who work so hard to help us grow the ditech brand, said Rich Smith, Chief Marketing Officer with Ditech Mortgage Corp. We value our partnership with Quattro and see them as a core part of our marketing team.
An independent panel of six senior marketers from major financial firms determined the elite group of winners. The judges scored the nominations according to innovation, customer support, value to the financial firms marketing success, the ability to deliver on expectations, among other criteria. Essays from nominators such as ditech discussed client commitment and the value delivered.
Today, the need for financial marketers to engage with true strategic partners has never been more pronounced, said Bill Wreaks, CEO and Chief Analyst of the Gramercy Institute. Understanding which partners talk the talk and which ones actually provide true value through partnership can make all the difference to the marketing success of a financial brand.
The 20 Most Valuable Partners in Financial Marketing received their awards recently at a special ceremony as part of Gramercy Forum: NYC. The forum was held at Thomson Reuters 30th Floor Auditorium, 3 Times Square, New York.
About Quattro

Founded in 2004 in Berwyn, Pa., Quattro is a multichannel marketing and advertising agency that serves a diverse global client base. Their creative and accountable strategic marketing solutions include direct marketing, strategic marketing consultation, creative, print production management, online marketing, digital solutions, broadcast and video, lists and data, media, print advertising, results analysis, and program management.
Led by founders Dan Boerger, Tom McNamara and Scott Cohen, Quattro represents leading brands including Comcast, ditech and US Bank. For more information: http://www.quattrodirect.com.