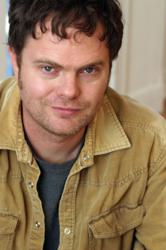 ORANGE, Calif. (PRWEB) May 10, 2013
Rainn Wilson, the comedic actor best known for his regular role as Dwight Schrute on NBCs hit series The Office, will be the guest speaker at Chapman Universitys 2013 Baccalaureate Service, which will be held on Friday, May 17 at 4 p.m. in the Wallace All Faiths Chapel, Fish Interfaith Center on the Chapman campus in Orange. He will also hold a book-signing immediately afterward, with copies of his book Soul Pancake available for purchase.
An interfaith baccalaureate service is a traditional part of commencement festivities at many universities, and is open to all graduating students and their families who wish to attend. Chapmans 2013 Commencement ceremonies will take place Friday and Saturday, May 17 and 18; see complete schedule.
All seats at this years Chapman Baccalaureate Service are already completely reserved, but an overflow room with a live television feed will be available in the Bush Conference Center, Beckman Hall Rm. 404. The event is not open to the general public, but news media are welcome to attend and cover.
Wilson, who belongs to the Bahai faith, is the creator of the popular website http://www.SoulPancake.com and author of the book Soul Pancake: Chew on Lifes Big Questions. His book, based on his wildly successful website, urges his audience to explore the bold questions and challenges of philosophy, creativity, spirituality, science and more, and, as Wilson puts it, figure out what it means to be human.
This is Wilsons second appearance at Chapman University. He previously spoke to a sold-out crowd in Chapmans Memorial Hall in 2011, presented by the universitys Bahai community.
ABOUT CHAPMAN UNIVERSITY:

Consistently ranked among the top universities in the West, Chapman University provides a uniquely personalized and interdisciplinary educational experience to highly qualified students. Our programs encourage innovation, creativity and collaboration, and focus on developing global citizen-leaders who are distinctively prepared to improve their community and their world.

http://www.chapman.edu

Follow us on Twitter: @ChapmanU
###