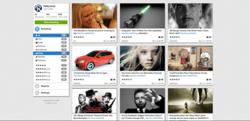 New York, NY (PRWEB) November 13, 2012
Heralding a new generation of social media marketing technologies focused on content discovery and curation, Rallyverse has released an entirely new version of its social media marketing platform that addresses the most pressing challenges marketers face today: sharing great content and messages with their audience in owned and paid social media.
For years, the first wave of social media marketing technologies were dominated by pseudo suites, which focused on workflow and setting up shop for brands in social media, said Rallyverse CEO Joe Doran. But none of them were useful in solving the core issue all brands have in social media: what is my brand going to say ten times a day on Facebook, Twitter and LinkedIn? Where does our content inspiration come from? And how do we connect that to the money we're spending in paid media? Rallyverse is solving that problem.
Rallydeck, the companys flagship product, enables community managers to discover, curate and publish great content in owned media. Built for a rapidly evolving sharing ecosystem, where social media is increasingly dominated by images and video, the Rallydeck uses proprietary technology to help marketers share only the most relevant content with their communities.
Rallydeck offers enhanced image and video publishing capabilities customized for each social networks unique needs, content scoring based on trend data and the brands marketing objectives, one-touch integration with paid media, and optimized scheduling of content. Users have complete say over how posts are published to social networks, giving the human beings who are ultimately pressing the publish button total control over how they engage their communities. Most importantly, the new Rallydeck presents its recommendations in a visual and intuitive user experience the way social media marketers and community managers want it.
Built into Rallydeck is Rallynet, the solution for brands that want to promote social sharing across their entire organization. Rallynet allows brands to centrally curate and distribute brand-approved content as well as items of local interest to social media users across an organization, such as external departments, satellite offices, and franchisees.
To complement its solutions for owned media, Rallyverse offers Rallyads, a managed service for paid media on social networks. With Rallyads, brands can promote their owned content into paid placements in Facebook and Twitter directly from the Rallydeck. Rallyads is a performance-based program that optimizes ad delivery and targeting criteria based on content relevance.
Using an integrated approach to owned and paid social media, Rallyverse helped athletic apparel brand Li-Ning go from zero to over 115,000 fans on Facebook in under five months. "Rallyverse gave us the tools and expertise to jump start the Li-Ning brand in the United States, giving us one of the largest and most engaged communities for a young performance athletic manufacture in less than five months," said Craig Heisner, who served as VP of Marketing, Sales, and Merchandising for the launch of the Li-Ning brand in the United States.
Doran pointed out that client results have been profound. Rallyverse clients who have run converged campaigns have seen their community growth rates increase by 4X, engagement per post increased by 10X and earned media increase 21X.
About Rallyverse
Rallyverse (http://www.rallyverse.com) helps brands discover, curate and share great content in owned and paid social media. Rallyverse monitors trending conversations across the social web to discover, curate and recommend the most relevant content for brands creating ready-to-publish status updates, tweets, and ads. Founded in 2010, Rallyverse has experience helping clients in financial services, automotive, technology, real estate and retail. The company is based in New York City.
For more information about Rallyverses solutions for brands, visit Rallyverse.com, or send an email to sales@rallyverse.com.