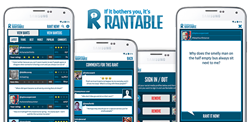 (PRWEB) April 09, 2015
Irritated? Angry? Absolutely Livid? Or just fancy a light-hearted moan? Well the Rantable app is the perfect place to share rants with fellow Ranters on Twitter, Facebook and Google+. And best of all, other Ranters can vote on how good or bad the posts really are. For the first time users can dislike something that has been posted; a unique feature that separates Rantable from other apps in the app marketplace.
Rantable allows 6,000 characters per rant which can be shared on social media to reach a larger audience. Instant tangible feedback is given using a 5 star rating system to show what annoys people the most and who is best at delivering rants. Users may even benchmark posts by searching for opinions on similar topics.
"As someone with an analytical background, I found it strangely frustrating that people would seek feedback on their opinions via the Internet but were not always able to gauge the popular consensus," said Andrew Cusack, Founder of the Rantable app.
Users are able to enjoy the 5 star rating system used to give each post a Rant Rating. Based on the average rating and number of votes cast, the rants and users can be organized by the best, worst and most popular. Users can add Comments and also see what scores the other users have given a Rant. The search features lets users find the subject that interests them at any moment in time. User can Rant completely anonymously or they can chose to openly share Rants on social media.
Rantable is available now for free in all territories on the AppStore and Google Play, including iPhone, iPad and Android devices. To celebrate the launch, Rantable is giving away an iPad Air to the best rated ranter. Please visit rantable.com for more information, including videos, screenshots and press kits.