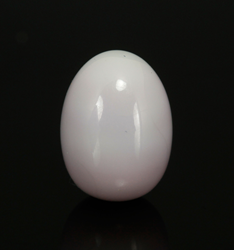 Beverly, Massachusetts (PRWEB) April 21, 2015
Kaminski Auctions is pleased to announce the sale of a rare natural single lavender pearl. The story of the rare single lavender quahog pearl found by a local police officer in his seafood soup was featured by numerous local and national media outlets including The Boston Herald, The London Daily Mail, National Geographic.com, World News Tonight, Good Morning America, People Magazine, CBS television and ABC.com. A top featured story on Yahoo.com the pearl found in his soup story took on a life of its own.
The six plus carat pearl is a rare non-nacreous pearl from the Mercenaria Mercenaria mollusk. The occurrence of a gem quality stone in a quahog is estimated to be only one in two million. Rare quahog pearls are mostly found by accident during home processing or consumption.
The pearl was accompanied with a GIA pearl certificate and described in the report as a Natural undrilled Quahog saltwater pearl, 11.43mm x 8.36mm, 6.22 carats, from a Northern Quahog clam with GIA report "no indications of treatment", "natural light purple", Quahog pearls are one of the most precious in the world, being the only saltwater purple pearl of any significant size, Quahog pearls are non-nacreous having a hard, smooth, lustrous finish.
The pearl was appraised conservatively by Kaminski Auctions senior appraiser, Harry Morgan at $ 12,000-$ 15,000 and sold for $ 16,500 including buyers premium and ultimately ended up with a Japanese collector through a U.S.pearl broker.