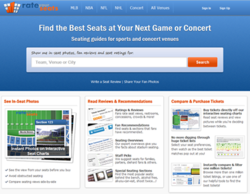 Chicago, IL (PRWEB) November 28, 2012
RateYourSeats.com announced today that its user base has grown to more than one million sports and concert fans. Additionally, RateYourSeats.com announced the re-launch of their desktop website to enhance the user experience. Launched in February 2011, RateYourSeats.com provides seating guides, in-seat photos, interactive seating charts, seat reviews and price comparison tools to help fans get the best seats at sporting events and concerts.
"We are thrilled to announce that more than one million fans have accessed RateYourSeats.com to read reviews, see photos, buy tickets and share their experiences," said Founder and CEO, Keith Hanson. President and Chief Innovation Officer, Steve Calhoun, added, The milestone provides validation of our vision — that we are providing a valued resource to consumers when researching their purchase decisions. The company reports that the number of users has grown by 180% over the last six months.
Shortly after reaching one million users, RateYourSeats.com re-launched their desktop website to introduce new features, improve the function of the site and respond to user feedback. We continue to push the company forward with innovation and consumer value always at the forefront, Calhoun commented. The re-vamped site functions more like a web application with an updated user interface and a technologically-enhanced back-end. New features include comprehensive seating guides, more than a dozen new ways to search for tickets, improved interactive seating charts, and even a new logo.
According to the 2012 Fan Cost Index, a family of four spends $ 450, on average, at a professional football game, and analysts estimate that fans spend $ 3-$ 5 billion a year on the secondary ticket market. We are hopeful that our improved research tools will give our users the same confidence they have when reading reviews for booking travel or buying electronics, concluded Hanson.
About RateYourSeats.com

RateYourSeats.com is a ratings and reviews site for seating at sports and entertainment venues. With coverage of more than 27,000 seating sections in nearly 300 venues, RateYourSeats.com helps fans find the best seats.