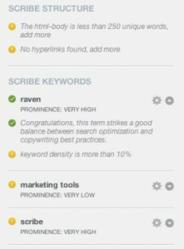 Nashville, TN (PRWEB) October 16, 2012
Raven Internet Marketing Tools announces the release of a new content tool featuring Scribe from Copyblogger Media.
Raven will demo the Scribe integration at Pubcon Las Vegas Oct. 16-18, 2012 and release it to customers on Oct. 23, 2012.
Scribe is the 23rd third-party data integration available in Raven.
Copybloggers Scribe brings everything Raven could want in a content partner, said Raven Chief Product Officer Jon Henshaw. Users love the sophistication, ease of use and advice. With so much focus on quality content right now, Scribe makes an ideal addition for Raven customers.
Scribe helps users write search engine optimized (SEO) content. The integration fills an important role in Ravens strategy. Raven users will be to do all the following with content: