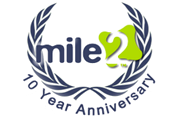 Tampa, FL (PRWEB) November 24, 2012
Websites are getting complex now a days and due to usage of third party services like plugins etc, it is hard to have exact controls. Dozens of websites get compromised every day. Taking this into account, Mile2, a reputed organization and worldwide name in Cyber Security, recently introduced the Certified Penetration Testing Engineer course. The Certified Penetration Testing Consultant course is designed for IT Security Professionals and IT Network Administrators who are interested in conducting Penetration tests against large network infrastructures similar to large corporate networks, Services Providers and Telecommunication Companies. Instead of focusing on Operating System level penetration testing, this course covers techniques on how to attack and prevent underlying network infrastructure and protocols.
On the occasion of the introduction of this training program, CEO of Mile2, Raymond Friedman was quoted saying, The training starts from basic packet capturing and analyzing by using common tools and continues with Layer2 attack vectors, Layer3 based attacks; including both IPv4 and IPv6 stacks, routing protocol attacks and then jumps over to Service Provider level attacks related with very common used MPLS, how to use relays and pivots, VPN attacks including IPSEC protocol suite, SSL attacks, and finally covers NIDS/NIPS evasion and implementation techniques. At the completion of each module, students can practice their knowledge with the lab exercises that are specifically prepared for the covered materials during the theory.
Mile2 and Raymond Friedman are aimed at providing Cyber Security training and consulting services that meet military, government and corporate specifications. Ray Friedman, CEO of Mile2 has spearheaded the development of the present series of Mile2 certifications which have become globally recognized by Militaries worldwide. Presently, Raymond carries several certifications and advanced degrees such as the Master of Science in Accounting, the Certified Information Systems Security Officer, Certified Penetration Testing Engineer and Certified Digital Forensics Examiner.
About the company:
Mile2 is a globally respected IT Security Organization that focuses on security training for national and corporate entities who understand the value of knowing your enemy. By training businesses and organizations to think like an attacker, their intellectual property and data remains secure. Mile2s overarching goal is to establish and contribute to a universal standard that has been adopted by government, military and corporate organizations whose intellectual property, secrets and infrastructure assets are significant strategic targets for entities with malicious and criminal intent. To know more log on to http://www.mile2.com/