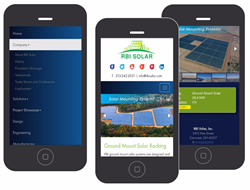 Cincinnati, OH (PRWEB) April 01, 2015
RBI Solar is pleased to announce the launch of our new mobile-optimized website. As more customers use mobile devices as their primary internet access point, the need for a mobile optimized website became extremely evident. This is the next step taken by RBI to stay ahead of emerging technologies after launching the solar shading app last year. The new website design brings a richer experience to the home page and throughout the website. This new design will make the RBI Solar website easier to use and enhance the multi-device user experience. The very popular and complementary solar shading app is still accessible from the new site.
The new RBI site has extensive content related to solutions, services, resources and details of our rich heritage. The Solutions section was our main focus of the new redesign. Every possible effort was made to provide our existing and prospect customers with all of the basic information at their fingertips. Additionally, the new design still places a great emphasis on project pictures.
Our goal is to bring all of the features of the website to the mobile user while providing a rich and seamless experience across desktop and mobile platforms, said Bill Vietas, RBI Solar General Manager. Users visiting RBIs website from a mobile device are automatically redirected to the mobile version on their devices.
"We have redesigned our mobile site to improve the user experience and increase download speed. Our customers are busy and on the go, so it is our responsibility to provide an information exchange platform that matches their life style. said Harman Kaur Marketing manager, RBI Solar.
About RBI Solar

RBI Solar, Inc. is the leading turn-key supplier of solar mounting systems. As a specialist in ground mount, roof mount, landfill solar, and custom designed specialty solar structures, RBI Solar focuses on providing best-in-class racking systems, installation services and project management capabilities to serve owners and integrators. RBI Solar has engineers on staff licensed in all 50 states and offers complete design, hi-tech manufacturing, nationwide installation, and technical support to help solve the toughest challenges in the industry. Leveraging more than 80 years of experience in the commercial design-build specialty structures market, RBI Solar works with its clients to identify the most economical, durable and robust solution for solar installations. Visit http://www.rbisolar.com for more information.