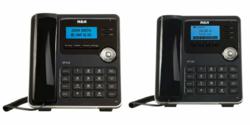 Buffalo, NY (PRWEB) September 14, 2012
VoIP Supply LLC, North Americas leading supplier of VoIP equipment and complete solutions, is happy to announce the addition of RCA VoIP Phones.
Mentioning the RCA brand conjures up the iconic "His Master's Voice" image of a dog looking into a phonograph. For those in the VoIP world, Nipper's same quizzical head tilt applies when told that yes, RCA does have VoIP phones.
In fact, RCA is the largest manufacturer in the multi-line and DECT analog phone market and now, with the two newest releases, the RCA IP110 and RCA IP120, they take a step out of the analog world and firmly into the VoIP phone world.
The IP110 and IP120 are the first VoIP phones from RCA. The two phones share a similar form factor and several of the same features.
Both phones have a built in full duplex speaker phone, support for a variety of voice codecs including G.722 for HD voice, dual LAN/WAN RJ45 ports and a RJ9 headset jack with support for electronic hook switch (EHS). Neither model supports PoE but, they do ship with an AC power supply included.
The two models do have their differences; the RCA IP110 is a two line phone with a 2