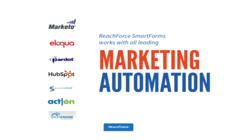 Austin, TX (PRWEB) December 11, 2012
ReachForce, the leader in B2B Data Solutions, has been named a finalist in the 2012-2013 Cloud Awards Program in the category Data Innovation of the Year.
Nearly 200 organizations entered the competition, with entries coming from across the globe and including Europe, the US and Middle East. Final winners will be announced on Tuesday January 15, 2013.
The Cloud Awards identify and celebrate excellence in the field of cloud computing, with categories including Best Cloud Infrastructure, Developer of the Year, Most Promising Start-Up, Web Services Excellence and Best Software as a Service.
The cloud computing awards program accepts entries from organizations of any size from enterprises to start-ups in the US and internationally.
Bob Riazzi, CEO of ReachForce said: This honor is a validation of customer reports indicating SmartForms and our other new SaaS data solutions improve marketing results and make our customers among the highest performing B2B marketers in the business. Online marketing is the biggest area of growth for B2B and we will continue our focus on bringing innovative solutions to help marketers accelerate revenue from their demand generation campaigns."
Cloud Awards organizer Larry Johnson said: The standard of entries this year was truly incredible and were still scratching the surface of what the cloud is capable of achieving.
Efficiency, agility and an ability to leverage all of the positive attributes of cloud technologies are what set the organizations in this shortlist apart from any other.
The competition in the Software as a Service category in particular was high and although we have more of a long-list than a short-list in this category, were still sad not to be able to include every entry.
Full shortlist
Data Innovation of the Year