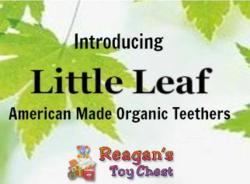 Carmichael, California (PRWEB) May 19, 2013
Reagan's Toy Chest is now carrying a new line of organic, handmade wooden teethers from the creators of Little Leaf. The online catalog of toys for toddlers is expanding to include more American made, organic products and the fit between Little Leaf and Reagan's Toy Chest was a perfect fit according to owner Lanaya Cooper.
"I am really excited to carry this unique line of handmade, organic wooden teethers for my customers," says Cooper, owner of Reagan's Toy Chest. "I love being a family owned business and will always support the growth and success of another. I am very excited about working with Little Leaf."
Like Reagan's Toy Chest, Little Leaf is a family owned company based in Northern California. Owners Joseph and Mystie Jovel created their company out of a desire to be more eco-conscious for their 9 month old daughter. Unhappy with the current products on the market, the Jovels set out to make their own line of unique teethers and created an eco-conscious blog called Start A New Leaf.
Their story is similar to the founding behind Reagan's Toy Chest. Cooper sought out to provide unique toys for toddlers and children that weren't like the products that could be easily found in stores; putting them all together in one online catalog.
"We wanted to work with Reagan's Toy Chest because we are looking to work with stores and people who have the same values that we do and that we feel like would be a good fit for our toys," says Mystie Jovel. "When I saw that Reagan's Toy Chest not only offered organic toys but wooden toys, I knew this would be a great partnership! I love supporting small businesses."
The wooden teethers are all hand crafted. The product itself is all made in America, including the organic ribbon used to brighten each teether. "Organic toys made in the USA is in high demand as voiced by the thousand of mommy bloggers that support home grown, eco-friendly products," according to Cooper.
You can view the complete line of teethers online at Reagan's Toy Chest and view all the unique toys for toddlers, including handmade wooden toys, puzzles and award winning games.
About Reagan's Toy Chest:

LRB Enterprises, LLC, is a family-owned business located in Carmichael, California. The business operates online retailer Reagans Toy Chest which is dedicated to providing the best toys for toddler, educational games and unique childrens gifts.
Owner, Lanaya Cooper is also the author of the daily blog Raising Reagan. The blog delves into the joys and challenges of raising a precocious toddler and includes reviews and giveaways of educational toddler toys. The blog has been ranked in the Top 50 Mommy Blogs in the US by Coupon Audit.
To learn more visit Reagan's Toy Chest or Raising Reagan on the web or contact customer support at 888-683-1910.