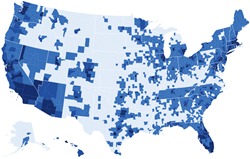 San Clemente, CA (PRWEB) October 06, 2014
Real Estate Economics (REE) is a leading provider of web-based economic and housing market statistics. The Home Closings Report is derived from every residential real estate transaction recorded in each county across the nation. Each month, REE collects and validates or corrects these transactions, then offers the resultant database on our advanced mapping system. The MS Excel-based Home Closings Report is just one of several user-defined reports that can be generated on our web-based system. Included in this report are 24-month trends in sales volume, price, home size, price per square foot, bedroom/bath counts, lot sizes, mortgage amounts, etc.
The complete National Home Closings Report can be accessed here. As shown on this report, there were over 302,000 home closings across the nation, representing a 16.7% decrease in volume. This decline is partly due to increasing price aversion, but also due to low inventory levels in many markets. The August 2014 average sold home price is $ 296,234, a 1.9% increase over the $ 290,712 price recorded one year ago. After strong market conditions and hyper price appreciation from mid-Year 2012 through Year 2013, sales volume and price appreciation are now slowing across the nation, said Mark Boud, Principal and Chief Economist of Real Estate Economics, not because of reduced housing demand, but rather due to reduced affordability.
About Real Estate Economics

Home builders and developers face an ever changing economic landscape. As the leading provider of housing market data and statistics, Real Estate Economics offers online market research tools designed to allow our clients to analyze their market areas using the most powerful database in the home building industry.
For more information on how Real Estate Economics can help land developers, homebuilders, site acquisition specialists, real estate professionals and financial institutions, please visit RealEstateEconomics.com or call (949) 502- 5151.