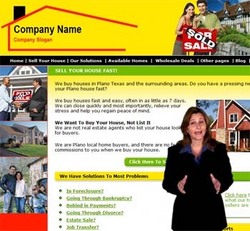 Plano, TX (PRWEB) October 7, 2010
A real estate investing Website Company, real estate investor websites, has released new designs for their real estate investor websites. This comes as a back-to-back upgrade just 3 days after releasing multiple language translation on the web sites.
Real estate investors can now chose from 136 designs which can be fully customized to reflect company branding and identity. Each website comes complete with proven copy carefully choreographed for converting leads into closed deals. A welcoming speaking model on each website serves to capture instant attention and boost conversion rates.
The websites can also be translated to 12 languages on the fly enabling real estate investors to reach a wider audience where they buy and sell houses.
They also come with the ability to adapt to any real estate investing business model with just a few clicks, fully personalized for each real estate company. Additionally, each website delivered has its content targeted to a geographical region where the real estate investor buys and sells houses.
Each website is also submitted to search engines so that it can start generating leads for real estate investors.
"Using advanced technology, a real estate investor can have their website up and running ready for business and fully personalized in less than one hour."
For more information, please visit real estate investing websites or call 214-227-8718.
###