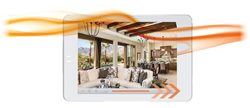 Bountiful, UT (PRWEB) May 19, 2015
Obeo, the nations leader in Real Estate Marketing technologies, announced today that they are offering six new video products, including full motion walk-through video. This new video offering includes six products designed for listings of every price point, from starter homes to luxurious mansions. Obeo explained that each video is produced to be engaging and tell a story that will capture the interest of online buyers.
Photomotion is one of the new video products. According to Bob Davis, Obeos Chief Operating Officer, Using still images, music, motion graphics, and custom narration, Photomotion videos will tell a story that instantly captures the interest of online buyers. Obeo will be offering Photomotion in all their markets.
In addition to Photomotion, Obeo will be offering five new video products that include full motion professional video. Home Story Reel is one of these. Obeos President, Mike Haugen stated that he believes the Home Story Reel video will change the way the Real Estate industry looks at walk-through videos. Mike explained, The Home Story Reel is much more than a simple walk-through video. Its a walk-through video with a professionally written and narrated script. The script tells a story about the property that engages viewers emotionally, which is something you cannot do with video alone. The Home Story Reel also includes custom motion graphics and several theme options.
Obeos additional video products include Luxury Story Reel, Community Story Reel, Agent Story Reel, and Broker Story Reel. Bob Davis explained that, Each of these are custom videos that feature the best videography talent and production equipment in the industry. Depending on the clients budget, they can include aerial video and even a professional video host.
Although Photomotion is available everywhere, Obeos additional video products are currently available in select markets only. Obeo plans to roll these video products out to all markets within the next few months.
About Obeo
As a leading innovator and provider of Real Estate marketing technology in North America, Obeo offers strategic solutions to real estate professionals looking to stand out from the rest. Obeos marketing suite provides world class photography and videography, virtual staging, mobile marketing, floorplans, extensive portal syndication, and lead generating social media marketing. Smart is saving MONEY with bundled tools. Smart is saving TIME with automation. Smart is using the best QUALITY technology available. Obeo is Smart Marketing. Delivered. http://www.obeo.com