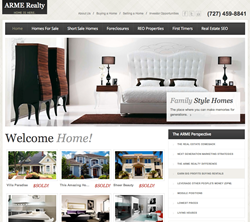 Nationwide (PRWEB) July 20, 2013
Video marketing for real estate pros is a must in today's digital real estate landscape. Buyers are asking to see virtual tours of their desired properties, and real estate professionals who actively market these virtual tours online are seeing more walk throughs to their properties than professionals who do not actively advertise their virtual tours online.
Because of this, ARME Realty.com has released a video marketing platform for real estate professionals that allows real estate brokers and agents the ability to build a highly targeted website on the fly by simply inputting their Youtube channel ID into their ARME Realty.com produced websites.
"With our new real estate video marketing toolkit, brokers can now knock out the production of their virtual tours along with the creating of their website simultaneously. Our system will essentially take all of their virtual tours from their Youtube channel and auto populate targeted website pages inside of their website, complete with video and text embedded into the pages," states Simon Landers, spokesperson.
He continues, "Brokers can even take it one step further. There are many brokers out there promoting MLS listings via the Youtube video marketing channel. Any broker can simply use this tool, take any Youtube channel ID and input this ID into their system. The system will then rip their videos and populate pages with their MLS content directly onto their own website. Perfect for building large video based websites in a little amount of time."
Real estate video marketers are finding out just how powerful the video marketing platform is for obtaining top ranking on the search engines in under 24 hours. Because of this, many experts are stating just how powerful the ARME Realty.com video toolkit is for pulling videos and providing brokers with powerful content for which to build their real estate businesses on.
For more information about ARME Realty.com and their real estate video marketing system contact the company today at (727) 459-8841.