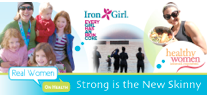 Boston, MA (PRWEB) June 10, 2013
Real Women on Health, an on-line womens health community and radio show, invites health and wellness advocates, wellness providers and health bloggers to an educational three-part on-line talk show series called Strong is the New Skinny.
Sponsored by Iron Girl, the 30-minute shows feature Pamela Peeke, MD, MPH, FACP, Author, The Hunger Fix, Kara Thom, Author, Hot Sweaty Mama and Marni Sumbal, MS, RD, LD/N and Owner, Trimarni Coaching and Nutrition, LLC. Listeners can access the shows live on June 12th, 19th, and 26th at 12:30 pm ET on Real Women on Health On-Line Radio.
Real Women on Health on-line conversations are based on current medical evidence indicating that: