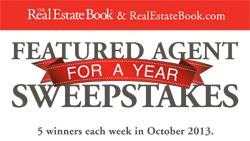 Atlanta, GA (PRWEB) October 10, 2013
The Real Estate Book/RealEstateBook.com has launched a new contest for real estate agents giving them the opportunity to win a featured spot for a full year, valued at around $ 1,200, on their local page of the top-ranked consumer housing search site.
Consumers interested in buying or selling homes also want to see local real estate professionals, said David Vining, Vice President of Interactive Media for NewPoint Media Group, publishers of The Real Estate Book. We wanted to let agents know they could be featured on the pages where their local clients are shopping. Allowing agents to win these spots seemed like a good way to demonstrate the effectiveness of our premier placement packages.
The contest will run until October 28 with 5 winners per week. Real estate agents can go to http://www.Realestatebook.com/platinumcontest to enter as many times as theyd like.
RealEstateBook.com receives daily updates from hundreds of Multiple Listing Services and has over 1.6 million searchable listings on RealEstateBook.com, attracting millions of consumers. Agents have the ability to buy advertising based on the location of their office and listings.
Think of the consumer searching for a home or selling a home in a specific area or neighborhood. They would, most likely, prefer to work with a real estate professional well-versed in that area, Vining added. Unlike some other sites, the local agents we feature are working in the area in which they are featured making them a more knowledgeable resource for the consumer.
Agents typically target hyper local areas based on their expertise, Vining said. This helps them reach that area. This makes for a better experience for the consumer because they are working with a local expert and a better experience for the agent because they are reaching their target audience. Quite frankly, its a win-win WIN.
Agents interested in featured exposure on the site can reach out directly to their local Real Estate Book representative and find package information on Store.RealEstateBook.com.
—
About The Real Estate Book/RealEsateBook.com
The Real Estate Book offers print, web, mobile, direct mail and social media tools to deliver leads and result s to real estate professionals. With local print publications in over 300 markets across the U.S., Canada, and the Caribbean, and approximately 300 additional markets displaying online content, RealEstateBook.com is a top-rated real estate website with over 1.5 million listings updated daily.
About NewPoint Media Group
NewPoint Media Group, LLC specializes in targeted media solutions that include both print and digital distribution to create integrated advertising and marketing services that amplify overall effectiveness and results. Leading brands include The Real Estate Book, Mature Living Choices, Senior Living Choices, New Home Finder, New Homes & Ideas, and New Homes Journal. In addition, the Companys Publications Print Division provides these services to a variety of industries. The Company specializes in integrating print and digital media to effectively reach and engage a targeted consumer audience through local print distribution, web, mobile, direct mail, and social outlets. For more information, visit NewPointMediaGroup.com.
Contacts:
David Vining, Vice President, Interactive Media

NewPoint Media Group, 770-962-7220 ext. 2424221, dvining(at)NewPointMediaGroup(dot)com
Rebecca Chandler, VP, Marketing

NewPointMedia Group , 770-962-7220 ext. 24672, rchandler(at)NewPointMediaGroup(dot)com
FOR IMMEDIATE RELEASE