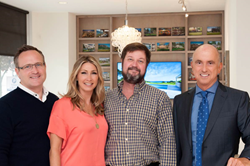 Seattle, Washington (PRWEB) April 24, 2015
Executives at Realogics Sothebys International Realty, the regions largest affiliate within the global real estate network (and the fastest-growing among the regions top ten most productive brokerages), announced today that Michael X. Ford has been appointed Director of Sales and is now the Designated Broker for the firm. Mr. Ford will also actively manage the Seattle branch office while collaborating with regional branch managers in Bainbridge Island, Kirkland and Issaquah.
We are thrilled that Michael will inspire our brokers with more than two decades of his operational experience, said Dean Jones, President and CEO of RSIR. We have identified a smart, savvy and sensitive leader that will cultivate the next generation of real estate professionals at a pivotal time in our marketplace and to support further expansion of our brand.
A Seattle native, Ford graduated from the University of Washington with a degree in Political Science and worked over several terms with the Washington State Legislature in public relations. He also served as leadership staff and was a business liaison for the Speaker of the House before exploring his interests in real estate as a successful broker and branch manager. As a proven recruiter, trainer and mentor at one of the largest brokerage firms for more than 20 years, Ford led newly merged and growing branch offices throughout the Pacific Northwest. He is a highly respected marketer, an expert negotiator and a real estate instructor. During the last in-city development cycle, Ford also contributed to a successful Builder Services Division. He remains active in both industry and business associations and is a membership committee member at the Washington Athletic Club.
I am following my passion and a pursuit of excellence in this industry, said Ford. Having experienced this kind of growth before at one of the most established real estate brands, I can draw upon my past while I focus on the future. Seattle has become a world-class market and Realogics Sothebys International Realty provides the vision, the tools and the people to make the most of a global city on the rise. Im returning to the city I love and I look forward to collaborating with many old friends and peers as we develop this market together.
Founded in 2002 as a real estate consultancy, Realogics, Inc. procured its third-party brokerage partner in 2009 and later acquired the Sothebys International Realty franchise in 2010. With its headquarters in downtown Seattle, the boutique firm expanded into Kitsap County in 2011 with the opening of its Bainbridge Island branch office and by 2012 appointed regional representatives in the north and south Puget Sound regions and began servicing Eastern Washington and Alaska through strategic partnerships. In 2013, RSIR commenced operations on Seattles Eastside and opened their flagship branch office in downtown Kirkland in 2014. By 2015, RSIR executives announced operations of their Asia Desk targeting international consumers. The firm is currently under construction on a new branch office in Issaquah to broaden its market share in east King County including Lake Sammamish, the Issaquah and Sammamish plateaus, as well as the resort markets along the I-90 corridor.
Ford has assumed duties previously managed by James Stroupe and Denise Seavitt, which along with Jones, headed a committee to appoint localized branch managers and allows the firm to recruit more brokers to their expanding offices. Both Stroupe and Seavitt will maintain an active role on the RSIR Management Committee while also building their own top-producing real estate teams within RSIR.
Our growth is organic, our brokerage platform is innovative and we are attracting leaders in sales and marketing excellence, adds Jones. We are positioning ourselves for what we believe will be a paradigm shift in residential real estate ahead. Much is changing with market fundamentals and the basic structuring of real estate brokerage operations itself. Our new management infrastructure will help us evolve and grow while at the same time increasing the level of care for our brokers and for our valued clients alike.
About Realogics Sothebys International Realty: Artfully uniting extraordinary homes with extraordinary lives, Realogics Sothebys International Realty is the Pacific Northwests largest affiliate within the global real estate network and is a leader in interstate and international marketing. Recognized by the Puget Sound Business Journal among the top 100 fastest-growing private companies in Washington State for 2012, 2013 and 2014, the boutique real estate firm of approximately 120 brokers consistently ranks as the most productive on a per broker basis when compared with the top ten largest residential brokerage brands in the Puget Sound region. For more information visit http://www.RSIR.com.
Editor's Note: Color photography of referenced individuals is available upon request please contact Andrea Savage at 206.448.5782 or email Andrea(dot)Savage(at)SothebysRealty(dot)com