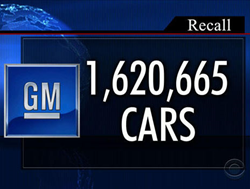 Detroit, MI (PRWEB) April 07, 2014
The consumer advocates at the Recall Resource Center are announcing new information on the site for owners of recalled GM vehicles. A new report indicates many of those involved in recalled vehicle accidents were young drivers*.
The Recall Center is a free resource for those affected by the recent GM ignition recall. The site contains the latest updates on Pontiac, Saturn and Chevy recalls, which vehicles are affected, repair options and legal news. Visitors can avoid potential dangers and decide if they need legal advice.
This year, General Motors announced a recall of approximately 2.6 million vehicles, including 2003-2007 Saturn Ions, 2005-2010 Chevy Cobalts, 2006-2011 Chevy HHRs, 2006-2010 Pontiac Solstices, 2007-2010 Pontiac G5s and the 2007-2010 Saturn Skys**.
The recall is intended to repair defective ignition switches, which can turn off engine power while the vehicles are in use, disabling essential safety features like power steering, power brakes and airbags**.
GM estimated the faulty switches were linked to around 30 accidents and 12 deaths**. However, the Center for Auto Safety recently reported NHTSA records show at least 303 deaths and thousands of accidents related to the recalled vehicles***.
Also, the Department of Justice and Congressional committees are investigating why GM waited until this year to correct the problems, when they may have known about them as early as 2001**.
Now, the Recall Center has added a new report suggesting a majority of those killed in accidents linked to the recalled parts were younger drivers, since many of the cheaper vehicles were purchased by parents for children*.
Lawyers are offering help to those injured or who lost a loved on in an accident with a recalled GM vehicle. Anyone affected is encouraged to speak with a lawyer about their legal options. The Recall Center only recommends lawyers who have already handled GM recall lawsuits.
Visit http://www.GMRecallLawsuit.com today for more details on the recall, affected vehicles, repair options and legal news, or to speak with a lawyer.
*Yahoo News, 3/31/14; news.yahoo.com/gm-recall-many-victims-were-young-drivers-204431247.html

**Reuters, 3/28/14; reuters.com/article/2014/03/28/us-gm-recall-expanded-idUSBREA2R1Y920140328

***Center for Auto Safety, 3/20/14; autosafety.org/sites/default/files/imce_staff_uploads/Friedman%20Letter%20March%2013%202014%20Full.pdf