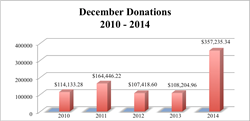 Takoma Park, Md. (PRWEB) January 29, 2015
Washington Adventist University received record donations last month that will help fund two new buildings on campus, enhance the universitys operations and provide scholarships to students. The more than $ 357,000 that was donated to the university in December will support a new Health Professions, Science and Wellness building, a new annex to the music building, improvements in specific academic departments, and will provide student aid. The December donations were triple the amount contributed in the previous year, and nearly as much as total donations for the years 2011-2013.
We are honored and blessed to have so many thoughtful and generous supporters, and appreciative of the opportunities these donations provide, said WAU President Weymouth Spence, Ed.D., R.T. We are now significantly closer to realizing our vision of becoming the premier private university in the mid-Atlantic region.
Nearly 70 percent ($ 250,000) of the funds are targeted by the donors to support the new Health Professions, Science and Wellness Center, a $ 10.3 million renovation and addition to the existing Health Professions Building on campus that will house WAUs health professions and science programs, as well as community programs to enhance wellness. Nearly 15 percent ($ 52,790) is targeted to scholarships for students; approximately nine percent ($ 33,360) supports academic departments and programs; and nearly six percent ($ 21,090) supports construction of a new music center annex that will provide much-needed performance space for the universitys world-class music students who regularly grace the stages of such notable venues as the Kennedy Center and Carnegie Hall.
# # #
Washington Adventist University is Montgomery County's only four-year private college. Part of the Seventh-day Adventist system of higher education, Washington Adventist University has been educating college students since 1904 on a 19-acre campus in suburban Takoma Park, close to the nations capital. A total of 1,080 students of all faiths participate in the universitys eight graduate and 32 undergraduate programs. The 2014 edition of U.S. News & World Report ranked Washington Adventist University among the best regional colleges in the north.
Media Contacts:

Angie Crews, 301-891-4134, acrews(at)wau.edu

Donna Bigler, 240-286-1169, dbigler(at)wau.edu