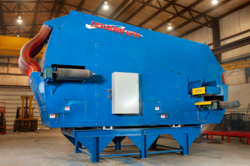 Toronto, Ontario (PRWEB) May 07, 2013
Recycling Equipment Canada is pleased to announce that it is the exclusive Canadian distributor of the Excelarator 15T-SS (patent pending), a revolutionary ballistic separator which will dramatically improve efficiency for Canadian recyclers.
The Excelarator 15T-SS increases profits by recovering more of the valuable materials from your stream at lower capital and operating costs. The revolutionary design accurately separates glass and fines, two-dimensional (paper and fibre) and three-dimensional (containers) materials in a single recycling machine. The Excelarator is capable of processing 15 to 18 tons of single-stream waste per hour with less than 3% contamination in the fibre split.
The Excelarator 15T-SS is the most cost-effective way for Canadian recyclers to get into single-stream recycling or improve the efficiency of their existing line, remarked Pete Mulvany, CEO of Recycling Equipment Canada. This product supports Recycling Equipment Canadas mission to help our customers reduce the total cost of ownership of their equipment and maximize profits.
Every part of the product design has been engineered to save money for our customers, increase their production and contribute to ease of use. The Excelarator 15T-SS has many revolutionary features that are not available on other separators in the industry. Each feature contributes to the efficiency of single-stream recycling operations in various ways, including:


Double the lift of comparable ballistic separators for larger load capacity and more accurate separation.
On-the-fly hydraulic bed tilt allows angle changes to suit varying moisture content in your stream while in operation.
Feed from any angle by conventional conveyors, which makes it easy to integrate into your existing setup.
Integrated take-off and out-feed conveyors to distribute the separated materials for final processing. The conveyors can be oriented in different directions for flexibility in distributing separated materials.
Waste materials never come into contact with moving parts of the separator, which minimizes service and maintenance.
The built-in glass breaking and separation capability minimizes wear on the rest of your equipment and maximizes safety for your operators.
The compact size of 15 feet high is ideal for smaller and medium-sized facilities.
The Excelarator 15T-SS is a result of collaboration between leading baler manufacturer Excel Manufacturing and JWR Inc., one of the largest recycling equipment dealers in the US.
Excel Manufacturing, a leader in industrial baler manufacturing brought their design, engineering and robotics expertise to the development of the Excelarator. JWR has 30-plus years of experience solving real world recycling problems for their customers. This experience led them to identify the need for dramatic improvements in the efficiency of single-stream recycling systems.
Were proud of the Excelarator and its potential to revolutionize single-stream recycling, said Dave Wolf, Owner/General Manager of JWR Inc. We are excited to partner with a leader in recycling equipment in Canada, as this is another great step in the delivery of our vision to revolutionize the recycling industry.
For more information or to arrange a demo of the Excelarator 15T-SS, please contact Recycling Equipment Canada toll-free at 1-866-496-4955 or contact(at)recyclingequipmentcanada(dot)com.
About Recycling Equipment Canada
Recycling Equipment Canada has been helping their clients build profitable recycling businesses for almost 20 years. Based in Waterloo, Ontario, REC can help you:
Identify opportunities to start or grow your recycling business profitably
Find the right equipment that will give you the best return on investment over the longest period.
For more information contact Martha Mackay at 1-866-496-4955 ext. 103.