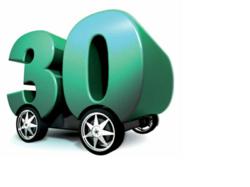 Falkirk, Scotland, UK (PRWEB UK) 29 November 2012
Redeem Ltd is named as the UKs fastest-growing recycling company. Redeem is a WEEE recycler of used electronics for mobile network operators (MNO) and corporate clients in nine European countries. The company specialises in making corporate social responsibility (CSR) easy for their clients and is a leader in driving sustainable business growth through innovation, empowerment and ethics.

The company has jumped from 6th place last year to take the no 1 slot in this years CIWM*'s Waste Fast 30 list, compiled by Catalyst Corporate Finance.
*CIWM – Chartered Institution of Wastes Management (CIWM) is the professional body which represents over 7,000 waste and resource professionals working in the sustainable waste and resource management sectors predominantly in the UK but also overseas.
Redeem refurbishes and resells or recycles high volumes of a wide range of IT and electronic equipment including mobile phones, tablets, MP3 players, sat navs, digital cameras, consoles, laptop computers, printer cartridges and games. Re-used electronic items are security and theft checked, data cleansed and sold in accordance with current legislation. Redeem has certified ISO 9001 & 14001 compliance as a specialist waste carrier and has won a number of local and national business awards.
The company is looking forward to future robust growth as smartphone and tablet computers make further inroads into traditional PC and laptop sales, and the arrival of superfast 4G products ushers in a new era for mobile handheld devices.
Claes Svensson, CEO of Redeem commented on the company's top position. I am delighted that Redeem has taken 1st place in the Waste's Fast30 chart. Redeem operates in a market segment predicted to show substantial growth as corporates and consumers become increasingly aware of the environmental and economic benefits of electronics recycling.
Redeem is an industry leader in environmental and marketing services for MNOs and corporates in the UK and increasingly in Continental Europe. The company has a history of innovation in providing sustainable solutions for its business partners. I am looking forward to continuing to oversee ambitious growth at Redeem and forging new partnerships which will deliver environmental benefits to clients whilst adding value to the customer lifecycle.
CIWM's Waste Fast 30 Selection Criteria

Catalyst Corporate Finance ranks the fastest growing privately owned waste services businesses in the UK by revenue growth to compile the CIWM's Waste Fast 30 from UK registered private, independent and unquoted waste services companies with revenues in excess of