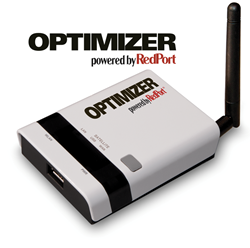 Maryville, TN (PRWEB) May 29, 2014
RedPort Global, the leader in advancing satellite data speeds and services, today announced the launch of the Optimizer wXa-112 Satellite Wi-Fi Hotspot. RedPort changed the way people use satellite phones with the introduction of the original Optimizer (wXa-102); for the first time, users could use the Wi-Fi enabled smartphones, tablets and computers they already owned to easily access accelerated email, the web, weather data and social media with their existing satellite phones. The updated hotspot brings a faster processor, support for GSM USB mobile service, and USB 2.0 functionality, while retaining all of the original hotspots features.
We ignited the current BYOD satellite Wi-Fi revolution with the introduction of the original Optimizer in 2011 – letting satellite users truly "Bring Your Own Device, said Dr. Luis Soltero, CTO of RedPort Global. This update keeps Optimizer hardware cutting edge for the hundreds of thousands of mobile satellite phones that can instantly provide Wi-Fi connectivity with this. A faster processor increases speed and convenience, and USB 2.0 cables give more installation options. International plug options serve our global customer base. Weve also added GSM support for the many users who have asked us to use Optimizer with GSM for example when they are docked at a marina, or back at a lodge.
Optimizer Included Features and Services: