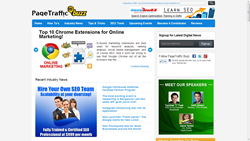 Chicago, Illinois (PRWEB) August 25, 2014
Learn SEO, SEM, and social media marketing tactics from experts at the SMX East 2014, the three days conference starting from September 30 in New York. The world's largest SEM conference and expo will have more than 60 tactic-packed sessions from 100 expert presenters. Individuals or teams registering for the event by August 29 will get an early bird discount of $ 100 on the all access pass, which will cost $ 1,695. Get an additional discount of $ 100 on the pass by using the promo code SMX100PTB.
"SMX East 2014 will deliver all the search engine marketing topics and trends insights to assist businesses stay ahead of the curve. Whether you are a start-up or an SEM expert, you can participate in more than 60 sessions on PPC, SEO, SEM, local & mobile search, and more. We are giving all access pass to individuals and teams registering for the event on or before August 29 at a discounted price of $ 1,695. The rates will increase from August, 30," said the member of the SMX East 2014 organizing team.
SEO changes everyday. SMX East 2014 will explore the new developments in the search industry. Some of the key sessions include How Google's Hummingbird Algorithm has Changed SEO, How to Deal with Increasingly Complex Technical Challenges, and The Evolving Paid Search Landscape.
"With each SMX, we aim at creating a valuable experience for attendees. The agenda is defined by combining the first-hand knowledge of industry news, developments, and trends. Every program is shaped to address the tactics and knowledge that attendees require to keep their marketing campaign perform well. SMX is unique because it has new voices and proven veterans covering broad spectrum of topics and ideas, which are ruling the search marketing industry at present," further added the team member.
Be the part of the SMX East 2014 (http://searchmarketingexpo.com/east/), the conference that will have more than 100 of the world's most knowledgeable Internet marketers present for three days. The registration for SMX East 2014 is open and the conference has a special package for team registration. The expo and conference has PageTraffic Buzz as the media partner to share the insights of the three days event with the readers.
About PageTraffic Buzz:
PageTraffic Buzz publishes news, reviews, and updates from the digital marketing industry. It has participated and been the media partner of major conferences & events in the past including Pubcon, SMX, ClickZ Live, SEMPO, Ad:tech, TechCrunch and several others. PageTraffic Buzz will be covering SMX East 2014 and sharing updates from the event with its readers.
###