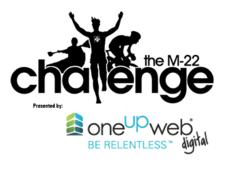 Traverse City, MI (PRWEB) February 12, 2013
Oneupweb, best known for creating marketing strategies for national brands, is proud to return as the presenting sponsor of the M-22 Challenge for the second year running. The 2012 event was a great success and the agency is excited to continue the growth of their relationship with the lifestyle brand M-22 by signing on for the fifth annual event, to be held on June 8th, 2013. In addition to sponsorship, Oneupweb will once again design promotions and the official race shirt given to each of the registered athletes. After volunteering at the 2012 event, several employees were inspired to register and participate as athletes for the 2013 event.
The M-22 Challenge, a tri-sport event of running, biking, and paddling, was introduced five years ago by the founders of the M-22 brand, Matt and Keegan Myers. The event has grown exponentially since it began and will cap off this year with 900 race participants. Those who would like to participate will need to be prepared to register on March 1st, 2013. The registration filled to capacity in mere hours last year and the same is expected this year. The popularity of the race is the result of the excellent organization of the event and the highly rated region where it is hosted, which has earned titles such as The Most Beautiful Place in America by Good Morning America, and was named one of National Geographics Best Summer Trips of 2012.
Be Relentless, Oneupwebs own tagline, serves as the motto for the event as well. Oneupweb CEO, Lisa Wehr, is happy to share the mantra in co-branding the popular event. The M-22 Challenge is the physical representation of everything we do in business, that tenacious, whatever-it-takes attitude to succeed, says Wehr.
Athletes can register online at the M-22 Challenge official website beginning at 8am on March 1st, 2013.
About Oneupweb:

Oneupweb has been an innovator in digital marketing for more than 16 years, creating integrated online marketing strategies that incorporate search marketing (SEO and PPC), social media, web design, and mobile services. Heralded by an independent research firm for their leadership team, work ethic and solid experience in optimizing complicated sites, Oneupweb has been named a Top 25 Search Marketing Agency by Advertising Age for five consecutive years, and CEO Lisa Wehr is recognized as an Ernst & Young Entrepreneur of the Year. Oneupweb is a privately held company located in Traverse City, Michigan. For more information on Oneupweb, please call 231.922.9977, visit OneUpWeb.com or follow them on Twitter @Oneupweb and @LisaWehr.