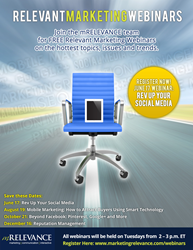 Atlanta, GA (PRWEB) May 28, 2014
Registration is open now for Rev Up Your Social Media, the third webinar in a series of six free webinars from mRELEVANCE, LLC in 2014. Rev Up Your Social Media will be presented live on Tuesday, June 17 from 2 to 3 p.m. ET.
Carol Morgan, MIRM, CAPS, CSP, managing partner of mRELEVANCE, and Laura Craft, MAC, mRELEVANCE senior account manager, will present Rev Up Your Social Media. Valuable and actionable tips will help attendees accelerate their social media program. This fun, interactive session will give attendees the horsepower they need to kick their social media program into high gear, whether just launching a social media program or improving an existing program. Subject areas covered will include listening/monitoring, integrating social media into your overall marketing, content strategy, calls to action, imagery, local search, reputation management, goal setting and tracking, contests/games/promotions, advertising and opt-in list building.
Relevant Marketing Webinars are free and open to business owners and marketing professionals who are looking to gain knowledge on the hottest topics, issues and trends to enhance their marketing efforts. During each webinar, mRELEVANCEs expert marketing professionals will discuss a different marketing topic to improve the effectiveness of a business marketing program.
Future webinars will be held on Tuesdays from 2 to 3 p.m. ET. The dates and topics for each webinar are listed below:
1. June 17: Rev Up Your Social Media

2. August 19: Mobile Marketing: How to Attract Buyers Using Smart Technology

3. October 21: Beyond Facebook: Pinterest, Google+ and More

4. December 16: Reputation Management
Carol Morgan, managing partner of mRELEVANCE, LLC, focuses on marketing strategy and integrating public relations, social media, content and creative to tell engaging stories for clients that garner measurable traffic. Carol is the author of Social Media 3.0 and creator of the nationally-ranked and award-winning http://www.AtlantaRealEstateForum.com, Atlantas most popular real estate blog. She is the 2014 Chair of NAHBs Professional Women in Building and a member of NAHBs Public Affairs committee. A graduate of Oglethorpe University, she is the recipient of the 2008 Spirit of Oglethorpe Award, PRSA Georgia Chapters prestigious George Goodwin Award, the 2009 Greater Atlanta Home Builders Associations Associate of the Year and 2012 Council Chair of the Year. Carol holds the MIRM (Masters in Residential Marketing), CAPS (Certified Aging in Place Specialist) and CSP (Certified Sales Professional) designations from NAHB.
Laura Craft is the mRELEVANCE senior account manager. As a former operations director for Chick-fil-A Moultrie and marketing director at the Moultrie YMCA, Laura is prepared to handle anything. She currently manages social media and public relations programs for home builders across the country as well as oversees all of the Atlanta accounts to ensure client happiness. Additionally, she contributes as a team leader to the corporate social media and marketing of mRELEVANCE. She currently serves on the Greater Atlanta Home Builders Associations Sales and Marketing Councils (SMC) Board of Directors. Laura holds a Master of Arts degree in communication from Valdosta State University, and a bachelors degree in communication arts with dual emphasis in public relations and visual communications from Berry College.
Register now for the June 17 Webinar: Rev Up Your Social Media at http://www.MarketingRELEVANCE.com/webinars.
The first two webinars, Location, Location, Location: How to Use Local Search and Review Sites Effectively and Using Pinterest to Sell Homes are available for download at http://www.MarketingRELEVANCE.com/webinars.
About Marketing RELEVANCE: mRELEVANCE, LLC creates relevant marketing and communications that reach audiences with focused and strategic messages. Through technology and creative content, messages are delivered to target markets to encourage customer action and interaction.
With offices in Atlanta and Chicago, mRELEVANCE can connect your company with buyers and build relevant relationships nationwide. For more information, visit http://www.mRELEVANCE.com, like us on Facebook at http://www.Facebook.com/mRELEVANCE, follow us on Twitter at @mRELEVANCE or call 770-383-3360 or 847-259-7312.