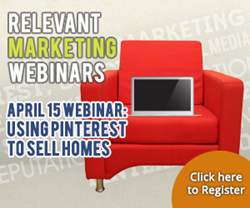 Atlanta, GA (PRWEB) March 20, 2014
Registration is open now for Using Pinterest to Sell Homes, the second webinar in a series of six free webinars from mRELEVANCE, LLC in 2014. Using Pinterest to Sell Homes will be presented live on Tuesday, April 15 from 2 to 3 p.m. ET.
Learn all about how to use todays hottest social media platform, Pinterest, to market homes from Carol Morgan, author of Social Media 3.0 and mRELEVANCE managing partner, with Melissa Stocks, mRELEVANCE account manager. This interactive, information-packed webinar covers the psychology behind Pinterest and how it can be beneficial for businesses and includes posting tips and strategies for making the most of a profile. Takeaways include Pinterest etiquette and tricks, getting more followers and some common pinning mistakes to should avoid.
Relevant Marketing Webinars are free and open to business owners and marketing professionals who are looking to gain knowledge on the hottest topics, issues and trends to enhance their marketing efforts. During each webinar, mRELEVANCEs expert marketing professionals will discuss a different marketing topic to improve the effectiveness of a business marketing program.
Future webinars will be held on Tuesdays from 2 to 3 p.m. ET. The dates and topics for each webinar are listed below:
1.