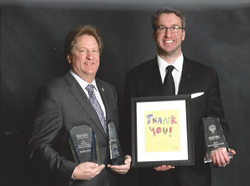 Lisle, IL (PRWEB) May 07, 2015
Sales Production Manager, Brian Ernst, recently announced a number of achievements made by RE/MAX Action. RE/MAX Action can now boast Top Office Production, Top Office Volume, Most Visited Website and Broker/Owner of the Year awards, all of which were given by RE/MAX of Northern Illinois.
A big part of this success is due to the Action Group, a unique group within the organization that is focused on continuous coaching, goal setting, accountability and advanced training, said Ernst. Everyone in the group has had a 20-400% increase in sales each year.
Broker/Owner Gary Jacklin and Brian Ernst created the selective Action Group nearly four years ago where agents set goals throughout the year with the help of Brian Ernst. We are the only RE/MAX office that offers this service of coaching, training, goal-setting and accountability, said Jacklin. And with Brians exclusive, coaching, and mentoring, Action Group agents achieve outstanding results.
About RE/MAX Action

RE/MAX Actions mission is to help their associates list and sell more real estate in less time while providing maximum service to their clients. They see their associates as sales professionals, helping to design their business so that they can go anywhere while still having a full-time support staff available. RE/MAX Action provides all of their associates with the tools, technology and support staff to work from anywhere, anytime. For more information, please call Brian Ernst at 630-730-0838, visit their office at 1550 Maple Avenue, Lisle, Il, 60532, or go to BrianErnst.net.
About NALA

The NALA offers local business owners new online advertising & small business marketing tools, great business benefits, education and money-saving programs, as well as a charity program.
PR Contact:

news(at)thenala(dot)com

805.650.6121, ext. 361