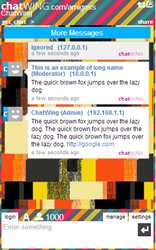 Austin, TX (PRWEB) November 05, 2013
According to the recent short study done by Chatwing Research Team, the company has established an 80% communication percentage to bloggers from different websites. Several factors were attributed to this percentage, such as the companys latest strategies, new topics for various niches, and even the features introduced by the developers.
Chatwings chat software expansion to blogging communities is a precursor to the companys goalwhich is the improvement of the website chat premise. With enhanced global connection, Chatwing developers are certain that more web users will gain the real online goals that they have been aiming for. In the expansion, the developers have focused on sharing tips to hundreds of startup bloggers who are making names in their respective niches.
The introduction of Chatwings premium services also helped improve blogger relations. Based on the research, the virtual coins made the users more flexible regarding the services they want to buy. Additionally, each of the services costs only 1 Chatwing coin per month. Users can purchase coins in batches of 3, 9, or 15.
To make blogger relations stable, Chatwing chat app developers are planning to create more chatrooms that will focus on several discussions. It is estimated that these discussions will tackle hot topics, like current events, sports, fashion, cyberspace, controversies, politics, and finance. Updates about discussions will be made available in Chatwings Facebook page and Twitter account.
About Chatwing.com
Chatwing.com specializes in the new field of website chat software. Over years, the Chatwing team has introduced live chat widget for hundreds and thousands of blogs. The Chatwing application bridges people from many parts of the world, creating global synergy through the Internet. The shout box can be installed in just seconds, and it can be used for varying purposes such as leisure and Internet marketing. It also allows a user to customize the size, color, and name of the widget.