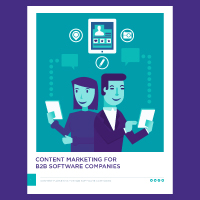 Baton Rouge, La. (PRWEB) March 24, 2015
B2B software companies offer complex products, and that can make marketing challenging. Content marketing is a powerful tool any B2B software company can use to build brand awareness, connect with customers and prospects, and increase sales. Reputation Capital Media Services, a marketing agency specializing in producing high-quality digital content for B2B companies, released a new white paper full of tips for creating and promoting engaging content for B2B software firms.
The white paper includes tips on creating a content strategy, identifying key audiences and producing a wide variety of content including blog posts, white papers, videos, emails and infographics. Rep Cap shares advice about where to find topic ideas for your content, how to get a better understanding of what your buyers are looking for, and how to repurpose your best content. The white paper draws on insights from content marketing experts and B2B companies who use content marketing.
It can be hard for B2B software companies to stand out from the crowd, says Lee Price, senior director of marketing strategy at Rep Cap. Producing and distributing content is a great way to inform potential clients about what your software does and how it can solve their problems. B2B software companies are often sitting on a lot of customer data that can give them insights into how best to target and distribute their content.
Download the white paper at http://offers.repcapitalmedia.com/content-marketing-for-b2b-software/.
ABOUT REPUTATION CAPITAL

Reputation Capital is a Baton Rouge marketing agency that helps B2B companies and their marketing agencies produce high-quality digital content, including blog posts, email newsletters, white papers and multimedia. Reputation Capital editors and writers are experts in their fields, which include human resources technology, employee benefits, financial services and accounting. Reputation Capital offers free 30-minute consultations on how great content can help businesses attract and retain customers.