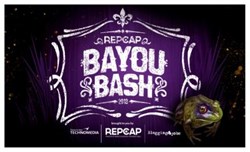 Las Vegas, NV (PRWEB) October 03, 2013
This weekend, three brands are coming together to throw a major party for HR technology vendors and buyers in Las Vegas, in conjunction with Human Resource Executive Magazines HR Tech Conference. Reputation Capital Media, a content marketing agency with experience writing about and marketing HR technology products, is organizing the Bayou Bash, a Louisiana-themed party heavy on southern hospitality…and bourbon.
Co-hosting the party are two more companies who know a thing or two about HR technology trends.
Blogging4Jobs is a blog that covers topics including corporate social media, HR, recruiting, and leadership. Chief editor and CEO of Xceptional HR Jessica Miller-Merrell explains why her team attends HR Tech: The time to invest in HR Technology is now. Over the past few years we've seen great products that are slowly revolutionizing the HR workplace. The HR Tech Conference is the perfect place to see new product launches and the evolution of the workplace.
Technomedia provides integrated talent management solutions for some of the worlds most successful workplaces. Rayanne Thorn, vice president of product marketing and strategy, says Technomedias client-centric focus and forward-thinking technology promote our vision to simplify the talent management needs that companies face today. Being a part of the HR Tech conference experience gives us an additional opportunity to share that vision. Who doesnt want a more fluid and measurable talent management process? We look forward to answering questions, giving a product demo or two, as well as learning more about the needs of the industry and companies we serve. Technomedia will be giving product demos and answering questions at booth #1417 in the HR Tech expo hall.
Reputation Capital Media helps companies in all industries, including HR technology, tell their stories to customers and prospects. The agencys team of journalists-turned-marketers creates top-shelf B2B content. Companies rely on Rep Cap for editorial strategy, content research, writing and design, website design, social media marketing and event management.
The Bayou Bash is Sunday, October 6 at the House of Blues in the Mandalay Bay. More information is at https://bayoubashvegas.eventbrite.com.
ABOUT REPUTATION CAPITAL MEDIA SERVICES
Reputation Capital Media Services is a Baton Rouge marketing agency that helps B2B companies and their marketing agencies produce high-quality digital content, including blog posts, e-mail newsletters, white papers and multimedia. Reputation Capital editors and writers are experts in their fields, which include HR technology, employee benefits, and financial services and accounting. Reputation Capital offers free 30-minute consultations on how great content can help businesses attract and retain customers.
ABOUT TECHNOMEDIA
Since 1996, Technomedia has developed and delivered the integrated global talent management solutions that enable organizations to drive high-performance business results by unifying the collaboration between employees, managers and candidates. Committed to the highest levels of customer satisfaction and ranked No. 1 in this category by Bersin & Associates, Technomedia provides the innovative technology, proven solutions and agile support to help clients create the worlds most successful workplaces.
The full power of Technomedia customer-centric focus is integral to every client relationship. The companys comprehensive talent management offerings are designed to complement existing systems, while bringing deep functionality to critical aspects of talent acquisition, performance management, succession planning, compensation, talent profile management, and learning and development. Hundreds of clients in more than 70 countries rely on Technomedia to analyze and recognize improved talent results. For more information, visit http://www.Technomedia.com.
ABOUT BLOGGING4JOBS
Blogging4Jobs is a HR and workplace blog that offers an unconventional point of view on topics including corporate social media, HR, recruiting, and leadership. Chief Editor and CEO of Xceptional HR, Jessica Miller-Merrell and her team seek to take the industry to uncomfortable yet necessary places.