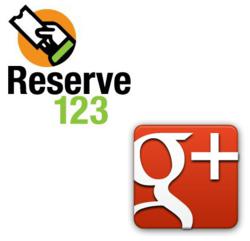 Atlanta, Georgia (PRWEB) March 20, 2013
Reserve123.com the worldwide leading resource for booking more than 12,000 tours, attractions and activities in 160 countries is pleased to announce the launch of the new Reserve123 Google Plus (G+) brand page, a new addition to the companys social media networks. The addition of Google Plus in Reserve123.coms social media web is expected to make a large impact in directly connecting and sharing travel information with customers.
Google Plus differs greatly from other popular social networks which are generally accessed through a single website because Google+ dominates search results. As of February 2013, Google is by far the most popular search engine in the world and owns 67 percent of the U.S. search market share. Google+ enables brands and users to skyrocket in outreach power compared to other more self-contained social media platforms.
The Reserve123 Google+ page will directly benefit fans and the travel community by promoting more personal relationships and engagement with users as well as extending the brands SEO outreach. Google+ Hangouts and Huddles provide private and undisturbed chats with business associates or fans. Google+ also provides larger size photo sharing, a better profile interface, easier to control dashboard and statistics, and faster indexation.
Ryan Windsor, President and CEO of Alcatraz Media and Reserve123.com, wanted to fully maximize social engagement opportunities for Reserve123 customers. Likely the best feature of all, Google+ surpasses other social media platforms that only offer text chat options by also offering live video marketing. Live chat session options may be on the horizon for Reserve123 customers to provide even better, faster customer service, reviews, and interaction.
To view the Reserve123 Google Plus Page, visit gplus.to/Reserve123.
About Reserve123:

Reserve123