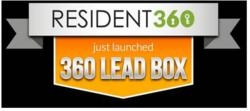 SAN DIEGO, California, (PRWEB) June 06, 2013
Multifamily marketing experts at RESIDENT360 have launched the companys new 360 Lead Box, an onscreen device for increasing lead generation on apartment community websites. The 360 Lead Box displays a special offer (such as a move-in special) to website visitors who provide their contact information in exchange for more information.
The 360 Lead Box is just one of the latest problem-solving strategies developed by RESIDENT360 President Josh Grillo after years of experience handling online marketing strategies for dozens of apartment communities. Grillos strategies grew out of his frustration with conventional apartment community websites that miss most of the important marketing elements that websites need to generate high quality leads.
Apartment communities need an easy way to display special offers to prospective residents and to collect their information for follow up, Grillo says. Out of necessity, we created 360 Lead Box, an all-in-one done for you solution that any apartment community can simply add to their existing website to gain more leads; its that simple.
Already launched on 26 multifamily community websites, the 360 Lead Box is averaging 488 extra leads per month at an average cost of $ 2.51 per lead, Grillo says.
Grillos firm is designed to provide multifamily companies with proven Internet marketing strategies designed explicitly to increase lead conversion and lead generation.
RESIDENT360 offers custom built, done for you sales-driven websites and lead-generating services to maximize website traffic and occupancy rates in multifamily properties.
Grillo announced the Lead Box launch in advance of the upcoming National Apartment Association (NAA) Education Conference & Exposition in San Diego June 19-22.
The RESIDENT360 team will be exhibiting at the NAA show (booth 1138), which will feature a keynote session with Virgin Group Founder Sir Richard Branson, Entrepreneur Bill Rancic (first season winner of Donald Trumps The Apprentice), Artist Erik Wahl (The Art of Vision), Bert Jacobs, co-founder and Chief Executive Optimist at The Life is good Company, and other industry heavyweights.
The 360 Lead Box launch coincides with the release of Grillos new multifamily marketing guide titled: The Definitive Guide to Apartment Marketing: How to Generate More Leads, Close More Leases & Retain Residents All While Saving Time, Money & Frustration. An Amazon.com top seller, Grillos in-depth book offers multifamily companies an unprecedented amount of information and helpful details for increasing leads and leases, and retaining more residents in any apartment community. Grillos book is a must-have reference guide for multifamily companies looking to garner maximum benefits from their marketing campaigns.
For more information on the 360 Lead Box or any of RESIDENT360s innovative multifamily Internet marketing services, visit the RESIDENT360 website, email Josh(at)resident360(dot)com, or call (855) 360-9327.