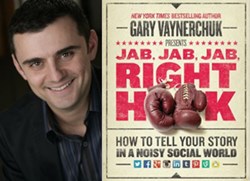 Houston, TX (PRWEB) November 26, 2013
Today social media guru Gary Vaynerchuk releases his highly anticipated third book, "Jab, Jab, Jab, Right Hook." Earlier this month, Vaynerchuk visited the Content Marketing Podcast to talk about his latest publication — and to help kick off Resonance's "Jab, Jab, Jab, Right Hook" Book Giveaway.
"We were delighted to have Gary as a guest on the Content Marketing Podcast talking about the book," Resonance CEO Rachel Parker remarks. "His premise is a timely lesson for today's marketers: Yes, we need to be delivering quality content focused on our audience's needs — 'the jab' — but we also need to be asking for their business — 'the right hook' — when it's appropriate.'"
Listeners will also learn:

Why the "sweet science" of boxing is a perfect metaphor for the content marketer's challenge.
Why marketers need both "the jab" (content that delivers value) and "the right hook" (content that promotes products or services) … and what happens when they focus on one at the expense of the other.
Why context is so vital, and why content marketers who ignore it do so at their own risk.
How Vaynerchuk put together 86 case studies both positive and negative.
Resonance will also be giving away 20 copies of "Jab, Jab, Jab, Right Hook." To enter, visit the podcast blog post and scroll down to the giveaway widget. Visitors can enter once per day through November 30, and winners will be notified on December 1.
About Resonance
Founded in 2010, Houston-based Resonance Content Marketing helps companies attract and retain business through engaging content delivered through social media, e-newsletters, blogs, and other venues. Resonance enhances its clients' marketing strategies by developing comprehensive content marketing plans, writing and publishing content on their behalf, and measuring the results to ensure consistent progress.