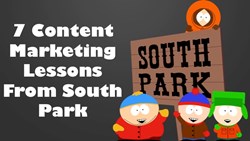 (PRWEB) September 12, 2013
Ive been a 'South Park' fan ever since Cartman got probed back in 1997, recalls Rachel Parker, Owner and President of Resonance Content Marketing with a laugh, but this cheeky little cartoon has evolved into a tremendous success story that has a lot to teach us content marketers.
On September 25, the foul-mouthed foursome of eight-year-olds will launch season number 17 on Comedy Central, making South Park the fifth longest-running U.S. primetime television series in history. Over 16 seasons and 237 episodes, the series has garnered four Prime-Time Emmy Awards, a Peabody Award and a slot on Time magazines 100 Best TV Shows of All Time.
Last week, Resonance published a SlideShare deck titled 7 Content Marketing Lessons from South Park, highlighting what all content marketing professionals can learn from the series 16-year success story.
Lesson Number One is work with what you have, explains Parker. Trey Parker and Matt Stone created the first episode of 'South Park' with construction-paper cutouts and actually photographed it frame by frame. They didnt have a budget, a studio or an animation team they just had a great idea and the relentless drive to get it out there.
Content marketers can also learn a thing or two about criticism from the show's story, she continues. 'South Park' was in very real danger of being canceled before it even aired due to bad reviews from test audiences. But Parker and Stone believed in their content and convinced Comedy Central to give it a chance. Of course, the rest is history.
The full presentation 7 Content Marketing Lessons from South Park can be seen on SlideShare at http://www.slideshare.net/resonancesocial/7-content-marketing-lessons-from-south-park.
About Resonance

Founded in 2010, Houston-based Resonance Content Marketing helps companies attract and retain business through engaging content delivered through social media, e-newsletters, blogs, and other venues. Resonance enhances its clients' marketing strategies by developing comprehensive content marketing plans, writing and publishing content on their behalf, and measuring the results to ensure consistent progress.