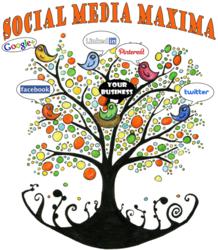 Dulles, VA (PRWEB) November 30, 2012
Biznology.com is a well-establish platform with demonstrated expertise, through their contributors, in the industry of business and technology. the place where business and technology come together to form a winning customer experience. As they say in their About section Technical marvels are, well, marvelous, but they don't ring the cash register by themselves. And the hottest business idea is a lot of hot air unless the technology worksworks for your business and works for your customer. The solution to these dilemmas is Biznology. Because modern marketing problems can't be solved by taking just a technical approach or just a business approach to a solution. You need to use both. Chris writing style is refreshingly down to earth and highlights the advantages of outsourcing social media through the lens of an insiders perspective.
When Chris Abraham discovered that Social Media Maxima was providing a great outsourcing service for business to manage their social media, he wrote an article in keeping their Biznology.coms dedication to both business and technology. In his article, Chris aptly observes, Social Media Maxima doesnt take over all of your social media content creation unless you really want them to. So, what they do, at the very least, is provide relevant, generous, content. Yes, only thrice-a-week, but I see so many Twitter and Facebook platforms that have been forgotten for weeks. While 3 isnt very many, $ 150/month isnt that much either but three times/week of good, generous, content, is just enough to act as those hair extensions that even out the bald spots of your social media posting and the limited resources you might have on hand especially when it comes to vacations or unforeseen oversights.
Chris Abraham is a representative of reputation.com and a leading expert in digital online relationship management, internet privacy, and online public relations with a focus on blogger outreach, blogger engagement, and internet crisis response. That he saw fit to publish an article dedicated entirely to the benefits of outsourcing social media generally, and to Social Media Maximas service offering particularly, is a significant vote of confidence in the industry of online marketing. This unsolicited review and positive recommendation of Social Media Maximas outsourced service sheds a fresh perspective on an often highly technical industry. As Chris points out, I know, I know: you wonder how a company like Andreas ever gets your company pitch-perfect? Get over yourself! I guarantee that a) youre not that special b) youre not that unique c) social medias not a ghost-written autobiography (which everyone does, anyway) d) and, to be honest, a professional writer can do a much better job of emulating your best self than you can do representing your own authentic self. Yes, I said it: a fake communications pro can always be you better than you can ever imagine yourself to be, more consistently, more professionally, and without fail, than you can. Thats why you bloody well hire a PR person and a copywriter and a content guy and a graphic designer and all that other stuff.
Chris Abraham's use of analogies to communicate something's value gives a new perspective to existing services. He says, "I just got off the phone with Andrea Howard, president of Social Media Maxima after having reached out to her on behalf of Reputation.com. While I was boning up on what her agency did, I fell in love! Long story short (and this is my analogy) is that Social Media Maxima offers social media hair extensions, hair pieces, and wigs. What I mean to say is that Andrea Howard is all about making your already gorgeous head of hair even fuller and more luxuriant, building the sort of coverage and body that youve always wanted and maybe never have had.
Social Media Maxima is an inbound marketing company, providing support and outsourced social media management to small and independent business owners. As a small, yet expanding new company, Social Media Maxima offers business owners confidence that their online presence is being reflected in the most positive, professional, and accurate way, freeing up their precious resources to other preferred activities.