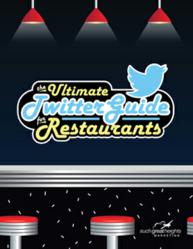 Detroit, MI (PRWEB) April 04, 2013
Such Great Heights Marketing LLC, a Detroit marketing company, released a free guide to help restaurants effectively market their businesses on Twitter. The Ultimate Twitter Guide for Restaurants is being offered for free on the companys website.
Many restaurants are dragging their feet when it comes to Twitter, presenting a huge opportunity for them to leverage it to grow their businesses. In fact, a 2012 study of Detroit-area restaurants on Twitter revealed that roughly 1 in 5 accounts have been abandoned and the average tweet rate for active accounts is only 1 every 3 days.
The restaurant Twitter guide covers how to produce tweets that encourage interaction and drive more business, provide customer service, grow a following, avoid common mistakes, and utilize promotions to bring customers through the door. The guide cites real-world examples to illustrate its points.
We kept running into restaurants that either werent on Twitter or could be using it so much better, remarked Brett Heitz, President of Such Great Heights Marketing. NRN.com cites Twitter as one of the main tools restaurants need to take advantage of in 2013 and we couldnt agree more.
Our clients are seeing gains from using Twitter and so many more businesses could benefit from it, added Heitz.
To request your copy of the Ultimate Twitter Guide for Restaurants, please visit the companys website.
About

Such Great Heights Marketing is a Michigan-based marketing company that specializes in social media marketing services, including Twitter account management, for restaurants. In addition, the company provides online marketing, website design, email marketing, graphic design, and more. For additional information, please visit SuchGreatHeightsMarketing.com.