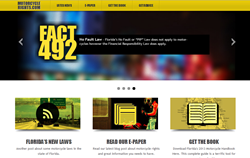 GAINESVILLE, Va. (PRWEB) November 01, 2013
RevBuilders Marketing, an integrated online marketing solutions and consulting business, is pleased to announce that they have launched a new motorcycle-centric website for Sinclair Law.
The new website, known as MotorcycleRights.com, provides a resource for motorcycle fans to not just share their love of motorcycles, but a place for insight on legislation surrounding motorcycles, whether its owning them or riding them.
Motorcycle enthusiast Brad Sinclair of Sinclair Law is pleased with the new website. We serve a variety of clients, but since I love motorcycles in addition to law, I've done a lot of research related to motorcycles. Consequently, I have this unique niche. I wanted to offer motorcycle enthusiasts a resource for all the rules and regulations regarding motorcycles and their owners and riders, says Sinclair.
Brad Sinclair and everyone at Sinclair Law always push themselves to best serve their customers, says Scot Small, President & CEO of RevBuilders Marketing. When Sinclair presented this idea to us, we were excited about helping them make this a possibility.
To visit the new website: MotorcycleRights.com.
Visit RevBuilders Marketing at: RevBuilders.com and visit Sinclair Law at: SinclairLaw.com.
About Sinclair Law

With over 25 years of personal injury and wrongful death legal experience, Brad Sinclair has been providing his legal expertise to victims in personal injury cases all throughout Brevard County in Florida, including the areas of Melbourne, Palm Bay, Cocoa Beach, and Titusville. Sinclair Law specializes in personal injury cases involving motorcycle accidents, automotive accidents, and truck accidents, and staff's former insurance claims adjustors to help with each case. Visit SinclairLaw.com today for more information.
About RevBuilders Marketing

For over ten years, RevBuilders Marketing has been providing various online marketing services to clients throughout the United States. Located in Gainesville, Va., RevBuilders is a full-service integrated marketing agency, offering a complete range of marketing services including but not limited to: SEO or Search Engine Optimization, Paid Search Management, Web Design, Brand Identity Marketing, Social Marketing, Email Marketing, Media Marketing, Integrated Marketing, Video Marketing, and Content Writing. In addition, through effective Web Design and conversion optimization, RevBuilders converts the increased SEO traffic into leads and sales for their clients by customized strategies for each client. RevBuilders Marketing is located in Gainesville, Virginia, serving a client-base across the country. Visit RevBuilders.com.com today for more information.