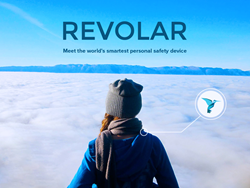 Denver, CO (PRWEB) April 28, 2015
Revolar is a simple and discreet wearable safety device that allows users to call for help when they need it most. One press of Revolars small button sends an emergency alert text message with location information to the users preset contact list. Revolar is crowdfunding on Kickstarter to raise $ 75,000 until May 8, and is currently less that $ 8,000 away from its funding goal. Jacqueline Ros, the founder and CEO of Revolar, was inspired to create the device after her younger sister was assaulted twice before the age of 17.
It made me wish there was some way my sister could have had a magic button to press so we could have known what was happening to her, Ros said. I began to research, and I couldnt find a single nonviolent safety solution that my sister could carry with her everywhere. When I told her my idea for Revolar, she immediately began to cry, and I knew that I had to make my idea a reality.
The Revolar device is approximately the size of a quarter and features a 360-degree button so users can easily find a grip to press the button during an emergency. It has been designed with discretion and empowerment in mind, and can easily be worn under clothing, visible to no one but the wearer. Because Revolar is hidden, it is gender neutral and can be worn by men and women of all ages.
Instead of offering 24/7, GPS-based tracking, as other wearables in the safety device market do, Revolar has focused on creating a product that gives confidence and enables greater personal freedom, rather than restricting it. Revolar only sends the users location to a pre-set list of emergency contacts via the Revolar smartphone app when pressed. The device then continues to update that persons location every three minutes until they have reached safety.
I didnt want to make Revolar a big brother-type wearable that constantly tracks someones location, Ros said. The ultimate goal is for Revolar to support the wearer in learning and being responsible with personal freedom. I want to inspire confidence in the wearer, not a feeling of being constantly supervised.
Revolar will retail for $ 99, but is currently available via the Kickstarter campaign for as low as $ 75. There is also an option to anonymously donate one Revolar device to a woman in a domestic violence shelter for just $ 40. Revolar is available through the Kickstarter campaign in white, blue and black. For more information, or to contribute to the campaign, visit http://bit.ly/RevolarKS.
ABOUT REVOLAR
Revolar was founded by Jacqueline Ros, who was inspired to find a new safety solution after her younger sister was assaulted twice before age 17. As a female-founded and female-led company, Revolar strives to create technology that empowers other people. Revolar is a company with a collaborative, dynamic, and inspiring culture where people are proud to work. Committed to excellence and driven by passion, Revolar is constantly looking to improve products and services to make the world a safer place. Learn more at http://www.revolar.com/.