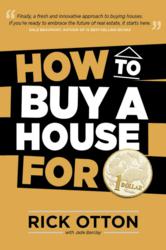 (PRWEB) February 14, 2013
As Brisbane residents start the harrowing task of getting their lives back in order after the recent floods, one of the difficult questions theyll face is whether to rebuild or start from scratch by selling and moving on. Australian real estate investing expert Rick Otton will tease out different buying and selling options, as well as offer a raft of innovative selling strategies at a one-day training seminar in Brisbane on February 17.
Mr Otton said limited seats were still available for the one-day Brisbane property investment training event, which would include creative real estate training and tips for selling in a tough market.
One of the biggest issues to consider as a home owner or real estate investor wanting to sell your property, especially if youre in a natural-disaster prone area such as Brisbane of Central Queensland, is your level of insurance, he said.
If insurers are happy to cover your property, and you can show this by having insurance in place, it will make the selling process much smoother as buyers seek that peace of mind said Mr Otton. At times when a market is jittery, sometimes it is common sense attention to detail like this that wins through for a seller. Like most of my strategies, sometimes it just takes a little thinking outside of the norm to make a difference.
Mr Otton teaches his property investing students not just how to buy properties, but how to sell them as well, for the price they want, even in difficult markets.
Brisbane property seminar
Along with his selling techniques, Mr Otton will reveal more of his unconventional real estate focused wealth-creation strategies at his How to Buy a House for $ 1 one-day training seminar, which is open to the Brisbane public at no charge.
In a recent interview, Mr Otton raised some challenging questions for those wanting to enter the property investing market, including: Whats stopping you from creating wealth right now? Cant get bank financing? No deposit? Bad credit rating? Negative gearing gobbling up your cash flow? Your mortgage is worth more than the house? Or are you are complete beginner to investing?
The reality is you can live the lifestyle you want, retire early or quit your current job and make tens of thousands of passive dollars a month, no matter what financial situation you are currently in if only you are prepared to deviate from the norm, and think creatively" he said.
Live problem solving demo
Mr Otton has revealed that seminar participants will have the chance to be one of 10 people selected for a live property problem solving demonstration.
To those selected, I will give a quick, easy and practical solution to their biggest property problem in a few short minutes, Mr Otton said. Ill personally work with 10 attendees to supercharge their transactions and put a whole lot more money in their pockets.
Bookings are recommended as seating will be strictly limited as the February 17 event, usually valued at almost $ 1,600, is being offered at no charge to the public. The seminar will include live demonstrations, interactive exercises and activities, case studies and lessons in cutting-edge strategies.
To register for the limited-seats visit HowToBuyAHouseForADollar.com.au
About Rick Otton
Rick Otton has spent decades making money by snapping up inexpensive real estate and putting it to work building wealth. Now, hes teaching other Aussies how to do the same. He is the founder and CEO of We Buy Houses, which operates in the U.S., U.K., Australia and New Zealand putting his strategies to work every day.
Otton got his start in alternative real estate investment in 1991 and within a year acquired 76 properties. In years after, he made a fortune using his low-risk, high-reward strategies to inexpensively acquire real estate.
Now, Otton wants to share the wealth by sharing the wisdom, teaching us how to buy and sell real estate without cutting banks and other middlemen in on the deal.
Otton has been featured in a variety of television programs and magazines, including Today Tonight, A Current Affair, Australian Property Investor and more.
More information on this Brisbane property investing seminar is available at HowToBuyAHouseForADollar.com.au