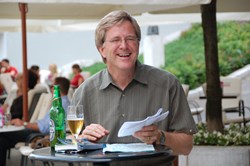 San Francisco, CA (PRWEB) January 08, 2014
Rick Steves, acclaimed travel writer, host and producer of the popular PBS television Rick Steves Europe, will be a keynote speaker at the opening luncheon of the International Tour Management Institute (ITMI) Symposium in Nashville on January 27th. The ITMI Symposium is the only travel industry conference that brings together domestic and international tour operators, tour directors and guides, event planners, destination marketing organizations, travel writers and other industry stakeholders for interactive seminars and networking.
"We are proud to welcome Rick Steves to our symposium," said Ted Bravos, CEO of ITMI. "His unique insights about how travel can cultivate a deeper understanding of other countries and cultures, will undoubtedly provide attendees with a valuable perspective about the role they can play as ambassadors of goodwill.
Thoughtful travel shapes our world view and therefore shapes how we address the challenges confronting our nation politically, states Rick Steves. Travel helps us to realize that there are exciting options to the norms within our communities and countries, than those that we may have accepted. I am excited to share my passion for travel as a political act with tourism professionals, who are in a unique position to inspire visitors to become more culturally literate and mindful of what they can learn from other countries and cultures.
About the ITMI Symposium:

For the past 27 years, the ITMI Symposium has attracted leading tour operators such as Globus Family of Brands, Tauck World Discovery, Adventures by Disney, Trafalgar Tours, Collette Vacations, World Strides, Smithsonian Student Travel, Princess and Holland America Cruise lines to name but a few. The event includes interactive seminars and educational programs that provide forward-thinking content about industry trends and mission critical technology.
About ITMI:

Since 1976, ITMI has been Americas premier training and certification program for professional tour directors, guides and travel staff. For more information about ITMI or the Symposium, contact Annemarie Osborne Annemarie.Osborne(at)gmail(dot)com (800) 442-4864 (415) 957-9489 or visit http://itmitourtraining.com/.
About Rick Steves:

Rick Steves is the host, writer and producer of the popular public television television series Rick Steves' Europe. Author of dozens of guidebooks, Rick Steves is America's most respected authority on European travel. For more information visit: http://www.ricksteves.com.

# # #