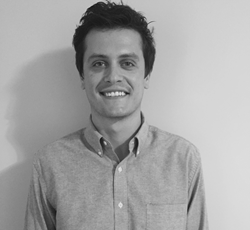 KNOXVILLE, Tenn. (PRWEB) April 13, 2015
Ripley PR, a national business-to-business (B2B) public relations agency, has added a new full-time employee to its staff: Junior Account Manager, Grayson James. The agency offers a full range of strategic communication services, including crisis management, media relations, and social media to clients in commercial construction, health care technology, home services, franchise, manufacturing and technology industries throughout the U.S.
Grayson brings extensive public relations, marketing and client service experience to our growing team, said Heather Ripley, president and CEO of Ripley PR. His background, expertise, and passion aligns with Ripley PRs vision for providing phenomenal service and measurable results for clients.
James joins Ripley PR from Ruby Tuesday, where he served as a customer relationship manager for the corporations catering division. Upon graduating from the University of South Carolina with a degree in Mass Communications/Public Relations, James also served in a marketing communications role for a distributor in the wine and spirits industry.
The Ripley PR team has a solid reputation for promoting national brands in unique and innovative ways, said James. I look forward to building on this foundation and developing strong relationships with current and new clients to help their businesses grow.
The agency recently announced that it was invited to join IPREX, a network of more than 100 of the most successful public relations agencies in the world. Ripley PR joins IPREX as the only Tennessee-based communications agency in the organization.
For more information about Ripley PR, visit http://www.ripleypr.com.
About Ripley PR

Ripley PR is a national B2B public relations agency using a blend of strategic business accounting and creative public relations branding to deliver measurable results. Specializing in construction, energy, franchising, health care technology, home services, and manufacturing, the agency offers a full range of strategic communication services, including crisis management, media relations, and social media strategies. For more information, visit http://www.ripleypr.com or call 865-977-1973.

###
For additional information, contact:

Heather Ripley

Ripley PR

hripley (at) ripleypr (dot) com

865-977-1973